M A I N N E W S
Convicted Tota Singh quits on moral grounds
Naveen S Garewal/TNS
Chandigarh, May 9
Convicted Punjab Agriculture Minister Tota Singh today submitted his resignation to Chief Minister Parkash Singh Badal on moral grounds. His resignation was forwarded to Punjab Governor Shivraj V Patil, who has accepted the same. The Punjab Cabinet now has 16 ministers including the Chief Minister, two short of the maximum strength of 18.
Tota Singh was convicted by a Mohali Court on Saturday for misuse of official vehicle during l997-2002 when he was Education Minister in the SAD-BJP government . The case was registered against him by the Vigilance Department during the Congress regime. Tota, who was discharged of the allegations of amassing disproportionate assets has resigned on moral grounds, as he was not required to do so technically.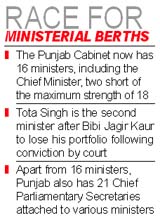 The resignation of Tota Singh has sent a very clear signal: The SAD-BJP government wants to improve the image of the alliance as one that has zero tolerance to corruption. During its second consecutive term in office, the SAD-BJP alliance has taken some hard decisions like suspension of tehsildars and ordering a vigilance probe into the Patiala land scam, which indicates that the Chief Minister is going to act touch on corruption.
Tota Singh, who was out of Chandigarh yesterday, got a clear message from the Chief Minister that he must take moral responsibility and step down. Today, Tota Singh met the Chief Minister and handed over his resignation, which was immediately forwarded to the Governor with a recommendation for its acceptance.
For the time being, Badal has announced that he will keep the Agriculture Department with himself. Tota Singh was given an assurance that he would get his job back if the High Court exonerates him of the charges. A review petition has already been filed in the court.