M A I N N E W S
PoK-bound spices worth Rs 2.5cr gutted in Jammu mandi
Ravi Krishnan Khajuria/TNS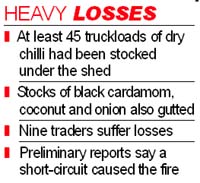 Jammu, May 9
It was like a bolt from the blue that struck cross-LoC trade. PoK-bound merchandise, mostly dry chillies, worth Rs 2.5 crore was gutted in a major fire at Narwal Mandi here last night.
The consignment was lying after PoK traders suspended trade 15 days ago in protest against the levy of tax on them by the Pakistani Government and a decision by Indian authorities (Customs Department) that allowed export of chilli only from Chakan-Da-Bagh in Poonch.
The fire broke out around 9 pm and within no time it engulfed the entire shed. The shed constructed of iron girders and sheets collapsed due to the high heat generated.
After failing to respond quickly, at least a dozen fire tenders along with firefighters reached the spot and kept fighting the blaze till 2 am.
"The Fire and Emergency Services Department didn't respond to our distress calls for half an hour. Then we had to rush to Narwal police post to lodge a complaint. Thereafter, two fire tenders reached the spot but by then the fire had engulfed the shed," said a cross-LoC trader, Gurvinder Singh. The Fire and Emergency Services Department responded late to the contingency, he added.
Stocks of black cardamom, coconut, onion and empty wooden boxes were also gutted in the fire.
Preliminary reports attributed the cause of fire to short circuit. "The consignment had to be exported to the PoK traders but they had suspended the trade 15 days ago because the Customs Department at Chakan-Da-Bagh had banned export of other items restricting us to export only dry chillies to them," said Rajinder Vaid, another cross-LoC trader.
"We had requested the Chief Minister Omar Abdullah a number of times to provide us warehouse at Jammu, Srinagar, Poonch and Uri but nothing has happened", they complained. At least 45 truckloads of dry chilli had been stocked under the shed.
Meanwhile, Health Minister Sham Lal Sharma along with Jammu Divisional Commissioner Pradeep Gupta visited Narwal Mandi this afternoon and talked to the traders. Though he expressed inability of the government to compensate the losses suffered by the traders, the minister assured them that the case would be taken up in Cabinet meeting at Srinagar tomorrow.