Stuff dreams are made of…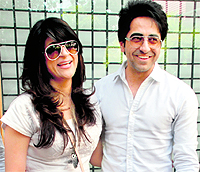 That's how the dream trajectory of a career looks like - beginning from winning a reality show, taking up a job of a VJ, hosting reality shows, getting to make a debut in Bollywood and with that delivering a sleeper hit that made everybody who matters wake up and take note of the new talent! Ayushmann Khurrana has made it quite big with and as Vicky Donor in the film; big enough to make his fans line-up for a picture, to make women of all age groups vie for a handshake, to inaugurate new ventures!
couple chemistry: Ayushmann Khurrana with wife Tahira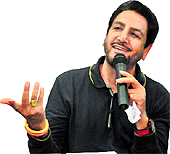 A legend, forever
Trust a legend like Gurdas Maan to overshadow what he's come to put the spotlight on. Which is why, singer Rupinder Handa's new album takes a backseat and everybody else is vying to reach the front of the crowd, taking pictures on cell-phones, asking questions and getting autographs! Whether you are young and not resting, or are very young and still rapping, everyone has listened to and loved Challa, never mind the remixed version.
sing along: Gurdas Maan
Flirting with danger!

Dangerous Ishq is a much-talked about movie off late. The reason is not difficult to fathom — Karisma Kapoor is making a comeback to the big screen after six years. Even the subject is quite unique; Karisma plays five different characters covering historical and spiritual events, spanning from ancient times to the Partition of India to the assassination of Indira Gandhi and through to present-day politics!We talk to the director, producer and writer, Vikram Bhatt, who has put his vision together for this movie.
STORY LINE: Vikram Bhatt
green thumb
Pest-ering issue
There are many methods of controlling insects, pests and diseases. The most required thing is, however, visiting the plants regularly. And believe me, they talk to you. Only thing required is to understand their language. You can do so with experience and by keeping an eye on your plants. This way you can solve many a problem, be it a nutrient deficiency, appearance of a disease or an insect. When the problem is nipped in the bud, it saves irreparable loss to the plants.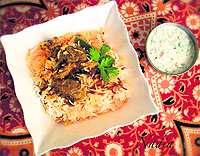 Biryani blast!
As soon as we hear the word biryani, our taste buds are sweetly tickled. Although we learnt the art of making biryani from Persian travellers, over a period of time we have innovated and come up with different varieties to suit our tastes. "Biryani is one dish that has been vastly experimented with and has turned into an authentic and conventional cuisine of the country," says Rajeev Kakkar, group general manager, Hotel Western Court.
indulge
Where Mughlai blends with Thai
The international leader in fine dine restaurants, Moti Mahal Delux Hospitality, has announced the opening of Moti Mahal Delux in Sector 9, Panchkula. Apart from the Mughlai and Indian culinary delights for which Moti Mahal has been famous for since 1920, the restaurant will also serve authentic Thai and Chinese delicacies.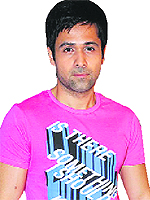 Shanghai calling
Emraan Hashmi is a popular hero, literally! At the music launch, a crowd waited for over two hours just to catch a glimpse of him. He clicks with teenagers, school-going children, and adults, girls and boys! His success story has become even more amazing in the last couple of years with hits such as Once Upon a Time In Mumbaai, Murder 2, Dil Toh Bachcha Hai Ji, Jannat 2 and The Dirty Picture. Shanghai looks very promising and he has a completely different look in the film. He talks about the movie and his character.

Success story: Emraan Hashmi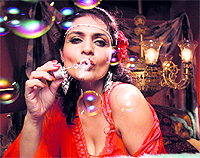 Miss Lovely goes to Cannes
Miss Lovely which is to be screened in the Un Certain Regard section of the upcoming Cannes Festival, an official section, ties up with Fortissimo Film a multi-national film production, sales and distribution company.


A still from Miss Lovely
The Sufi touch
When there's a film starring Emraan Hashmi there's bound to be a Sufi song. Now, music label T-Series has insisted on one more romantic number be added to the soundtrack of the film.
Justin Bieber completes high school
Justin Bieber will never have to tackle another homework assignment as the teenage pop sensation has completed his schooling. The Baby hitmaker spent years balancing private tutoring with his world tours and recording sessions, but now the 18-year-old is officially done with school.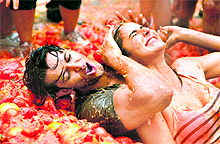 Zindagi Na Milegi Dobara wins 5 IIFAs!
Zoya Akhtar's road-movie Zindagi Na Milegi Dobara which is nominated in 14 categories at the 13th International Indian Film Academy (IIFA) awards has won already five so far in technical categories.

Big win: Still from ZNMD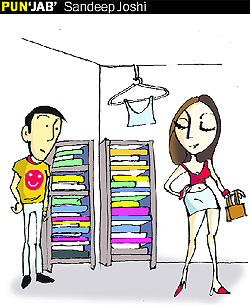 style file:

Do you have something smaller than size zero?
Shahid turns host
Shahid Kapoor is set to win the hearts of over 800 million viewers across the world as he hosts his first IIFA Awards in Singapore next month. A friend of IIFA, Shahid has previously performed at IIFA in Singapore (2004) and Amsterdam (2005). The Videocon IIFA Weekend will be hosted in the Lion City of Singapore from the June 7 to 9 this year.