M A I N N E W S

No divorce clause in Anand Marriage Bill sets off debate
Perneet Singh/TNS

Amritsar, May 10
The Anand Marriage Amendment Bill 2012 has been introduced in the Rajya Sabha. However, the absence of provision of divorce in the Bill has set off a debate in the Sikh community, with some sections supporting it and others against it.

While one school of thought maintains there is no place for divorce in the Sikh "rehat maryada" (code of conduct) and hence the Bill should not provide for it, the other feels that the separate marriage Act should be complete in all aspects so that Sikhs don't have to fall back on the Hindu Marriage Act again at the time of divorce.

Talking to The Tribune, Akal Takht Jathedar Giani Gurbachan Singh said there is no mention of divorce in the Sikh "rehat maryada". "Also the fact that the Anand Karaj takes place in the presence of Guru Granth Sahib makes it imperative for an individual to uphold his marital ties all his/her life." The issue will be taken up in the next meeting of the Sikh clergy, he said.

SGPC president Avtar Singh Makkar said it is not appropriate to resort to divorce in Sikhism and therefore it has not been included in the Bill.

According to former GNDU Vice-Chancellor SP Singh, the Bill is a step forward towards a separate Sikh identity. "As divorce is not in consonance with religious sentiments of Sikhs, the Bill doesn't talk about it," he said.

But there are others who feel that the Act must have all provisions. "Without the provision of divorce, it will be an incomplete law," opined former Head of Department of Guru Nanak Studies, GNDU, Prof Gursharanjeet Singh. "Divorce is a social need and it should be allowed under special circumstances. If a person is spoiling the life of his/her spouse, the latter cannot be left at the mercy of God for entire life," he said. Noted lawyer HS Phoolka said the Bill is achieving the purpose for which it has been brought. "It will facilitate issuing of marriage certificates to Sikhs under a separate Act," he said. On divorce, Phoolka said the couples getting their marriages solemnised under the new Act can apply for divorce,

if need be, under Section 13 of the Hindu Marriage Act. To include the divorce clause in the existing Bill will require a lot of debate and discussion, he said.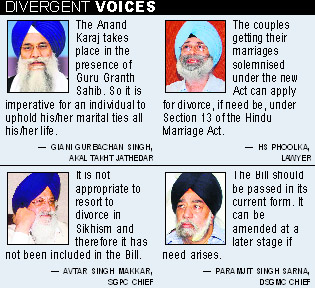 DSGMC chief Paramjit Singh Sarna said the Bill should be passed in its current form, as it has come this far by clearing many hurdles. He said he agrees with the arguments of both the sides (who are for and against divorce provision), but the Act can be amended at a later stage if any problem arises.
Separate law
Former RS MP Tarlochan Singh, said: "When I first took up the issue in the form of a Private Member's Bill in 2007, I had sent a copy of it to the SGPC and the then Akal Takht Jathedar Giani Joginder Singh Vedanti to seek their nod. At that time, Vedanti said he would approve the draft only if there was no clause for divorce, which he said was against 'maryada.' Therefore, I moved the Bill with only registration clause in it." "We have been fighting for separate registration of Sikh marriages for over five decades now and this Bill promises to fulfill our long-pending demand," he said.