Special to the tribune


Obama backs gay marriages
Barack Obama on Wednesday said he supports gay marriage, reversing his long-standing opposition and becoming the first sitting US President to support the same-sex alliance.
Barack Obama
Elite IAS cadre faces 30 per cent shortfall
New Delhi, May 10
It is not just the Armed Forces which are facing acute shortage in the officer cadre, countryís elite IAS has a shortfall of close to 30 per cent with Uttar Pradesh leading the list with 216 missing Indian Administrative Service personnel.
Chisti can visit Pak, rules SC
New Delhi, May 10
Rejecting governmentís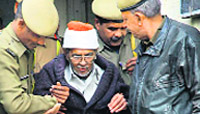 reservations, the Supreme Court today allowed 82-year-old Pakistani microbiologist Mohammed Khalil Chisti, undergoing life imprisonment in a murder case, to visit Pakistan till November 1.
Mohammed Khalil Chisti