Nothing in name of development here
Kusum Arora
Tribune News Service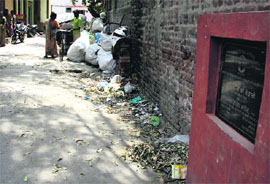 A foundation stone mentions relaying of the road with inter-locking tiles in Jalandhar. Photos: Sarabjit Singh
Jalandhar, May 10
Blame it on the 'vote bank tactics' or the 'pick-and-choose' policy of the ruling SAD-BJP combine, most of the development works in Ward Number 7 have not seen the light of the day.
The ward has remained neglected as it represented by Congress' Ramesh Rani Bali. The councillor's husband, Bal Kishan Bali, has been looking after the works as Ramesh Rani is admitted to a hospital.
Talking to Jalandhar Tribune, Bali said development works remained confined to laying foundation stones by Jalandhar (North) MLA KD Bhandari and the Municipal Corporation. "Being a Congress councillor, my wife remained dependent on Jalandhar MP Mohinder Singh Kaypee for funds. Funds released for the various development works are yet to be reach us," he added.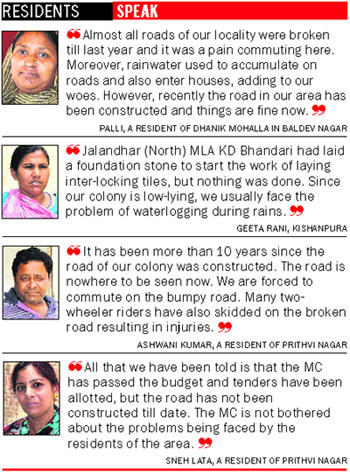 "We are still awaiting an amount of Rs 60 lakh from the MC to construct roads in Arjun Nagar and Kishanpura. The tenders for the roads were passed two years ago, but we have not received a single penny as yet," Bali added.
Bali said his wife was able to get two roads of Baldev Nagar and Prakash Colony constructed only after Mohinder Singh Kaypee released Rs 9 lakh from his MPLAD funds. "It was sheer indifference with us in the name of all-round development of the city. Only the SAD-BJP councillors gained. The Congress councillors across the city have been sidelined," he added.
Residents of the area rue that as the area is low-lying, it remains flooded with filth and stagnant water during rains.
"During the past five years, all that we saw was assurances from everybody and little work," said Kaushalya Devi, a resident of Kishanpura locality.
Residents said the two parks in Kishanpura and Prithvi Nagar were not being maintained. "Ever since we elected a Congress councillor, the MC authorities have neglected the area," said another resident.
Prospective candidates
Earlier reserved for women, Ward Number 7 now has now open to general category candidates. Bal Kishan Bali is likely to contest the lections. His wife Ramesh Rani Bali is the sitting councillor. Many names are doing rounds in the BJP, including Balwinder Vicky, Kishan Lal, Prashant Gambir and Raj Kumar Sharma.
Amount spent
Bal Kishan Bali said during the past five years, around Rs 1.5 crore has been spent in the ward for various development works. "Out of this, Rs 19 lakh was released by MP Mohinder Singh Kaypee, another Rs 19 lakh came through a Centrally-sponsored scheme of a slum development project and MC spent around Rs 1.20 crore. Another Rs 2 crore grant of MC is yet to be released," he said.
Areas in the ward
Kishanpura, Prithvi Nagar, Prakash Nagar, Arjun Nagar, Baldev Nagar, Baldev Nagar Dhanik Mohalla, Prakash Colony, Lamma Pind Road.