This is called all-round development
Kusum Arora
Tribune News Service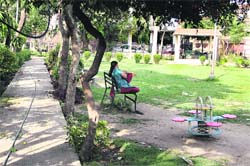 A well-mainained park in the ward. Photos: Sarabjit Singh
Jalandhar, May 7
Barring a few localities of the Santokhpura area, Ward Number 5 reflects development in terms of fine network of roads, streets reconstructed with inter-locking tiles, streetlights, potable water facility and sewerage system.
Starting from the Kishanpura locality to Laxmipura and the old Tanda Road, the ward clearly shows the progress made by spending a sum of Rs 6.50 crore on various development works done by councillor Sunil Jyoti.
While a park was developed in Vikas Puri on a seven kanal land by spending Rs 25 lakh, another amount of Rs 40 lakh was spent on installation of streetlights in the ward.
Almost all the residents were found content with the pace of development in their ward. Joginder Singh from Laxmipura said, "There is no such major problem in the ward barring the fact at some places, one can spot garbage littered in the corners of the localities. Although garbage lifters come on a regular basis but this has remained one of the problems. We are content with the development works competed by our councillor."
Residents of Laxmipura also expressed satisfaction over the laying of inter-locking tiles in their locality. "The work was started last year and it was completed in a start to finish schedule. Now, we have a clean environment," said Ashok Kumar.
Even the shopkeepers of Tanda Road also lauded the efforts of the councilor stating that they had been facing a peculiar problem of waterlogging during the monsoons in their shops. "Earlier, monsoons would bring in misery for all the shopkeepers as stagnant rain water would enter in the shops. This problem came to an end with sewerage system and the construction of road", said Sonu, a shopkeeper.
But a section of residents also claimed that the councillor usually remains unapproachable, hence leading to problems for them. "There have been times, when we faced this problem. Although, a progressive person but he works according to his own whims & fancies. He should remain available for readdressing our grievances", the residents said.
The residents of New Santokhpura locality blamed the councillor with reconstructing the entire locality including Vij Nagar, where he resides. "Almost all the localities in this part of Niwi Abadi and New Santokhpura are lagging behind in development. Piles of garbage, stagnant water and lack of cleanliness has been the major problems in our colonies", said Ramesh Pratap a resident of this locality.
"Despite all round development of ward number 4, there are localities in Santokhpura where people are forced to live in filth. The councillor should have focused on our localities too", added the residents of this locality.
Amount spent
Councillor Sunil Jyoti spent Rs 6.5 crore on major development works like 100 per cent drinking water supply, sewerage system, and installation of streetlights and development of public parks. Out of this, Rs 40 lakh was spent on streetlights, Rs 25 lakh on Vikaspuri Park, Rs 60 lakh on interlocking tiles.
Lack of development in Santokhpura
There are certain localities of Santokhpura and Niwi Abadi where development works like laying inter-locking tiles and streetlights have not been done.
Prospective candidates
While the Congress is yet to open its cards in announcing its candidate, Sunil Jyoti, a BJP candidate, is sure to contest in the MC elections. "I am waiting for my next tenure to make my ward as an example in terms of facility and beautification," he said.
Not accessible!
"I am proud that I am the only councillor, who goes for a round to different localities of my ward every morning on a motorcycle. Right from 7.30 am to till late at night, I had always remained available for people," said counsellor Sunil Jyoti.