Bridal Affair-2012 showcases trousseau delights

Splendour from Dubai, Pakistan for brides-to-be
Aparna Banerji
Tribune News Service
Jalandhar, April 29
Designers from Pakistan, Dubai, Mumbai, Chennai and Punjab gathered to bring a special and luxurious experience for the would-be brides in the city. The two-day exhibition "Bridal Affair-2012" which concluded at Hotel Ramada here today was a glorious treat for women of the city.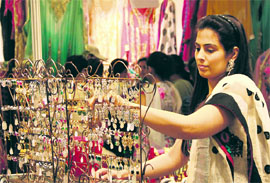 The exhibition showcased bridal trousseau goodies ranging from designer apparels, accessories, jewellery, footwear and bags to magnificent linens and furnishings and home décor accessories.
As already witnessed by the city for the past some years, the exhibition promoted the trend of an ever-swelling demand for exclusive, high-end designer wear.
A brigade of homemakers, students, siblings and friends-turned-designers and entrepreneurs ruled the show. There were magnificent patchwork suits and kurtis, an elegant footwear stall, classy furnishings and decor materials presented by the likes of Adna and Tizhori, a dedicated stall for only hair accessories in stone and leather and a delightful range of hand-embroidered, patch work and sequinned apparels and magnificent tribal and Victorian jewellery.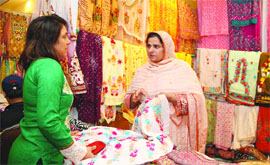 A total of 29 brands presented their collections, including one from Dubai and four from Pakistan.
Sanam Tamanna from Dubai presented designer suits and apparels from designer duos Sanam Safeena and Sanam Tmanna. Run by a brother and sister duo, Sanam Tamanna was started nine years ago.
"We have been to Lucknow and Chandigarh also. This is our second visit to Jalandhar. It's always a pleasure to come here. The crowds are great and value the work," said Sanam.
While Sanam Tamanna was run by siblings, Chandigarh-based Style and Lace saw three college time friends teaming up.
Dealing in apparels and accessories, Style and Lace is being run by friends Simer, Himani and Candy. Their USP is keeping their stuff reasonable.
While their clothes are all priced at Rs 500 to Rs 1,500, the bags come at the extremely affordable prices from Rs 900 to Rs 2,500.
Talking to The Tribune, Simer said: "We tried our hands at various jobs, but soon we realised that the corporates are not meant for us. So here we are."
Among Pakistani designers, Huma Nassar's stylish kurtis and apparels were loved. The amiable Bushra Tabassum put up an elegant show of hand-embroidered suits.
Based in Lahore, Tabassum took to the apparel business after her marriage, but once she started, there was no looking back. "I was stuck, the demand was high but now I am loving my work."
The exhibition also saw participation by talented entrepreneurs based in Ludhiana, Chandigarh, Chennai, Mumbai and Delhi.