Victims, kin unaware of relief amount
Aparna Banerji and Nikhil Bhardwaj
Tribune News Service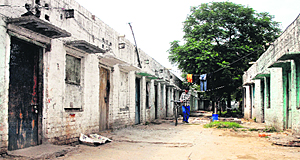 Rooms of labourers locked at Hargobind Nagar in Jalandhar on Wednesday. Tribune photo: Malkiat Singh

Jalandhar, April 25
Most of the victims of the Shital Fibres collapse, including the injured, kin of the deceased and those discharged from hospitals, have left the city. The small rooms in the alleys that they lived in at Ram Nagar in Gadaipur are locked. Some say they left because they were given a meagre amount by the factory owner following which they were told to leave, while others say they will be back after performing the last rites of their loved ones.
However, labourers working in other industrial units in the city say the victims were unaware of the government compensation and no one had an idea of the ESI pension or other benefits.
Bipin Kumar, who was discharged from the Civil Hospital on Monday and lives at Ram Nagar, has not received any financial help to date.
He said: "At least 10 labourers lived in this establishment with me. Many are dead and their families have all gone to perform their last rites. Neither me, nor they were aware of the compensation announced by the government."
The rooms of labourers Shiv Shankar (15) and Jai Prakash (20), both brothers; Santoo (25) from Gopalganj, Bihar; Ram Lal (25) from Aara, Bihar, and Santosh Kumar (24) from Aara, Bihar, all are locked.
Munna Yadav, another tenant at Ram Nagar, said: "Some of them did get money, not from the government, but from industrialists. The relatives of those killed got Rs 2,000 to Rs 5,000 from the administration to perform their last rites. However, they are yet to receive the compensation promised by the Punjab government. None of them is even aware about the ESIC pensions"
"The families who have migrated from the city are not even planning to come back because they think Rs 1,05,000 given by industrialists was all that they were entitled to," Yadav added.
"Since I was at the hospital, someone told me that I will get compensation from the government. But what about the others? Is the government making sure that those who have left or have been discharged are informed about the compensation?" Bipin questioned.
Satendra, who was discharged from the Civil Hospital a couple of days ago, says no one told him about the compensation. Sanjay, brother of Parabhat (20), who died in the factory collapse, is among the ones who has not received a single penny as compensation.
"Prabhat (20) was rescued from the debris early on Monday morning. He couldn't be admitted to the Civil Hospital on Monday morning so he was shifted to Devi Talab Hospital, where he died in the afternoon. He was cremated the next morning, but we still do not have his death certificate. No one gave us any information about compensation. I have been visiting the Civil Hospital to know what I am supposed to get, but so far no one has informed us about anything," Sanjay said.