'Industrialists flout labour laws'
Dharmendra Joshi
Tribune News Service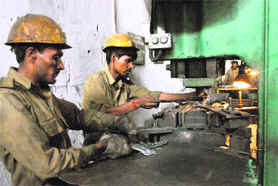 Migrant labourers in a factory. photo: Malkiat Singh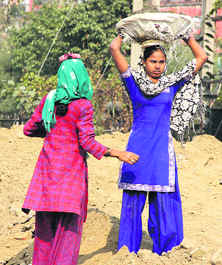 Two women labourers work at a construction site in Jalandhar on Monday. Photo: Sarabjit Singh

Jalandhar, April 30
The recent Jalandhar blanket factory building collapse incident has reportedly exposed that most of the industrialists are using various tactics allegedly in connivance with officials of the Labour Department to exploit workers in violation of various labour laws.
Some migrant labourers, including Manoj Bhagat of Suriya village in Vaishali district of Bihar, were reportedly getting Rs 3,800 (Rs 468 less than the minimum wages of Rs. 4,268 for unskilled labour) per month as wages from the ill-fated Shital Fibres, which collapsed on April 15, resulted in the death of 23 workers.
Talking to The Tribune, Punjab Pravasi Bhalai Board chairman RC Yadav admitted, "Nearly 10 lakh migrant labourers from Uttar Pradesh, Bihar, Jharkhand and West Bengal working in nearly 1.61 lakh small scale and nearly 400 large and medium scale industrial units in Punjab are paid much lower and owners of these industries get their signatures done against the amount much higher than the stipulated minimum wage."
About various tactics adopted by industrialists, former president of the Bar Association Labour Court, Jalandhar, Ravi Wadhawan said, "Most of the industrialists keep two salary registers. One for themselves, wherein the actual amount paid to labourers is mentioned, and the second for the authorities on which signatures of the labourers against the amount much higher than the minimum wage are taken."
Further, Pramod Yadav, district president of the Purvanchal Vikas Mahasabha (PVM), said, "At least half of the migrant labourers are not even allowed to mark their attendance in order to keep them away from giving the benefit of Employee's State Insurance (ESI), Provident Fund (PF) and gratuity."
Corroborating their statements, the Punjab Pravasi Bhalai Board chairman said, "Less than half of the migrant labourers are shown as actual employees by industrialists, while others are not even allowed to mark their presence in the attendance register."
Wadhawan further said, "No minor can work in any factory but several underage children can be seen working in industries in violation of various rules."
Pramod and Wadhawan alleged, "Several officials of the Labour Department are hand in glove with majority of the industrialists and that's why violation of labour laws continues."
Rubbishing the charges, Additional Labour Commissioner Harish Nayyar said, "Action is taken under Rule 110 of the Factory Act against the industrialist if it is found during inspection that the number of employees shown in the attendance register is less than those actually working."
To a query, he said, "Officials of the Labour Department ask labourers during inspection (at their own or after getting a complaint) regarding how much salary in actual is paid to him. A worker can also file his claim in this regard before the Assistant Labour Commissioner (ALC). If any discrepancy is found, the industry is directed to pay according to the rules."
Additional Director, Factories, Sodhi Mal said, "If a minor child is found working in any industry, action is initiated against the owner under Section 67 of the Factories Act."
However, both Nayyar and Sodhi Mal failed to provide even rough data about the action taken so far against industrialists for flouting labour laws.
'Labourers are paid above minimum wages'
Narinder Saggoo, president of the Focal Point Extension Association, said, "Migrant labourers are the backbone of the industry and they are paid much more than the minimum wages as the industry is facing shortage of workers."
However, Saggoo admitted, "Nearly 25 per cent of the total migrants are "irregular" (kacha) workers. Some workers come for a few months and do not want to be a regular. Earlier, there was a law where PF was to be deducted after six months of regularsing a worker. But now, it is required to be deducted from the first day of his permanent job. The deduction of PF should be made after six months as it will benefit the migrant labourers."
CM felicitates workers
Chief Minister Parkash Singh Badal and Deputy Chief Minister and SAD president Sukhbir Badal today greeted the labour and working class on the occasion of May Day that symbolises the struggle of labour class globally.
In a message on the eve of May Day, the Chief Minister and Deputy Chief Minister called upon the working and labour class to join hands to usher in an era of overall development, peace and prosperity in the State. The Chief Minister also paid tributes to those who had sacrificed their lives for the struggle to secure genuine service conditions at Chicago in 1886.