M A I N N E W S
US wants India to further slash Iranian oil imports
Hillary discusses N-cooperation & Af-Pak with PM, promises Mamata investment in Bengal
Ashok Tuteja & Subhrangshu Gupta/TNS


All in a day
n Hillary discussed a host of issues with the Prime Minister, including civil nuclear cooperation, Iran, Syria and the situation in the Af-Pak region
n She assured Mamata of larger US investment in Bengal by considering it a partner state
n She expressed dissatisfaction with Pakistan's handling of terror and continuing protection to 26/11 mastermind Hafiz Saeed
New Delhi/Kolkata, May 7
America today insisted that India do more to reduce its dependence on oil from Iran and expressed dissatisfaction with Pakistan's handling of terrorism. Visiting US Secretary of State Hillary Clinton met key Indian leaders and discussed a range of issues, including China, regional security and civil nuclear cooperation.
After meeting West Bengal Chief Minister Mamata Banerjee in Kolkata and assuring her of American investment in Bengal by considering it a partner state, Clinton flew into Delhi and held meetings with Prime Minister Manmohan Singh and UPA chairperson Sonia Gandhi. Tomorrow, she will hold talks with External Affairs Minister SM Krishna ahead of next month's strategic dialogue between the two countries in Washington.
Official sources said Clinton discussed a variety of issues with the Prime Minister, especially Iran, terrorism in the context of the Mumbai attack, and the situation in the Af-Pak region. The PM was assisted by Foreign Secretary Ranjan Mathai and Indian Ambassador to the US Nirupama Rao. The American delegation included new US envoy to India, Nancy Powell.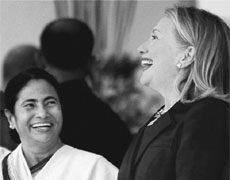 West Bengal CM Mamata Banerjee and US Secretary of State Hillary Clinton in Kolkata on Monday. — PTI
The Indian side is learnt to have explained to Clinton India's compulsions in buying oil from Iran to meet domestic requirements. Iran fulfills about 12% of India's petroleum needs. However, it was also pointed out to the US side that India had cut down oil imports from Iran.
Clinton, whose trip to India coincided with the arrival of a large Iranian trade delegation in New Delhi, however, lauded the steps taken by India to lower purchases of Iranian oil.
"India understands the results of its policies... (It) is certainly working towards lowering purchases of Iranian oil. We commend the steps they have taken thus far," she said at an interactive session at La Martiniere School for Girls in Kolkata this morning.
"We hope they (India) will do even more and we think there is an adequate oil supply in the market from Saudi Arabia and Iraq. We think this is part of India's role in the international community," the American leader said.
India is hopeful of not attracting US sanctions. Washington would determine India's progress in cutting down oil imports from the Islamic nation by the end of June. The US State Department had in March warned of sanctions against 12 countries, including India and China, because of purchases of Iranian oil.
In Kolkata, Clinton expressed dissatisfaction over Pakistan's handling of terror and protection offered to JuD chief and Mumbai attack mastermind Hafiz Saeed, on whom the US recently announced a bounty of $10 million.
"I admit our expectation on Pakistan's fight against terror was not fulfilled," she said, adding that the US would continue to help and support India in the best possible way in the fight against terror.
During her hour-long meeting with Mamata at the Writers' Building in Kolkata that began with a handshake and a 'namaste', Clinton assured her of larger US investments in West Bengal for the state's speedy industrialisation and generation of employment.
She lauded Mamata for single-handedly routing the Communists and ending their 34-year uninterrupted rule in the state. Several matters related to the state's development also came up in the meeting.
Clinton told the Chief Minister that hitherto, no large US investments were possible in West Bengal, but with the change of regime, it would possible for her to organise larger and wider investment in the state.
Talking to mediapersons, Mamata said she had sought larger US investments in the IT and software sector, health, education, agriculture and rural development from the US leader. Clinton showed interest in development of the Kolkata and Haldia ports and setting up of some new ports with US investments.
The Chief Minister denied there was talk on the nuclear deal, FDI or the stalemate over the Teesta issue with Clinton.
South Indian breakfast for Hillary
US Secretary of State Hillary Clinton and External Affairs Minister SM Krishna will exchange views on a variety of bilateral, regional and global issues over a South Indian breakfast in New Delhi on Tuesday.
The all South Indian Thali breakfast, a departure from tradition, would include rava upma with cashew nuts and coriander, kesari bhaat, uthhappam, dosai, medu wadai, steamed idlis, drumstick sambhar, coconut and tomato chutneys and podi with ghee. To cap it all, there will be masala chai and South Indian coffee on the table at the Taj Palace Hotel.