Highway horror in Moga; 18 dead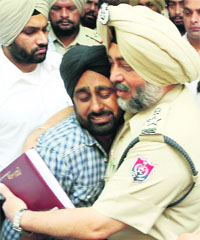 11 of family killed in truck-canter crash
Moga, May 7
Eighteen persons, including six women and five children, were killed in a head-on collision between a Canter and a truck near Ghal Kalan village on the Moga-Ferozepur national highway in the wee hours here today.


SSP Surjit Singh consoles a mourning relative of a victim in Moga on Monday. A Tribune photograph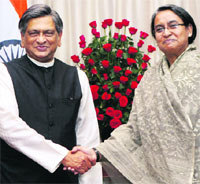 Delhi to Dhaka: Efforts on to build consensus on Teesta
New Delhi, May 7
India today told Bangladesh that it was trying to evolve domestic political consensus for an early conclusion of the Teesta river water-sharing accord with the neighbouring country.
Foreign Minister SM Krishna with his B'desh counterpart Dipu Moni.

FM rolls back duty hike on jewellery
New Delhi, May 7
In a bid to appease foreign investors, Finance Minister Pranab Mukherjee today put off the implementation of the controversial tax evasion measure, General Anti Avoidance Rule (GAAR), for a year and also offered sops to jewellers by rolling back duty hike and real estate transactions but did not climb down on taxing Vodafone-type transactions.