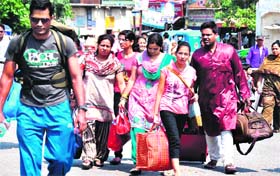 Devotees return after taking a holy dip in the Ganga on the occasion of Buddh Poornima at Har-Ki-Pauri in Haridwar. Tribune photo: Rameshwar Gaur
CM requested to resume hydropower projects
Dehradun, May 7
Awdhash Kaushal, chairperson of the Rural Litigation of Entitlement Kendra (RLEK), a voluntary group, has demanded immediate resumption of the Vishnugad Peepal Koti, Himjyoti and Alaknanada hydropower projects. These projects were not been stopped by the court or by the National Ganga River Basin Authority (NGRBA).
Ban big dams, tunnels in state, Bahuguna urged
Pithoragarh, May 7
The Uttarakhand Sarvodaya Mandal has appealed to the government that keeping in mind the sensitivity of the state towards earthquakes, flashfloods and landslides, the construction of big dams and tunnels be banned immediately. The decision to this effect was taken at a meeting of the mandal at Kausani in Bageshwar district yesterday.
Teachers invent novel way of shirking duty
Mussoorie, May 7
The eight government teachers from Government High School in Sarona Nyay panchayat have found a novel way of shirking their duty under an arrangement of taking turns one by one, on a daily basis, while imparting education to 70 students, thus jeopardising their future.
Stench of honour killing in girl's death
Nainital, May 7
The town of Bazpur in Udham Singh Nagar continues to witness commotion following the death and burial of a young girl on Saturday. The police has been trying to exhume her body from the grave after it was alleged that she was a victim of honour killing.
CPWD builds 2 km road stretch in Darma valley
Pithoragarh, May 7
Residents of the Darma valley have expressed happiness that the Central Public Works Department (CPWD) has successfully completed a 2-km hard rock stretch of an under-construction road between Sobla to Bongling in the valley at Pampabe along the China border in less than 18 months.
Improve pattern of investigation, cops told
Dehradun, May 7
Taking note of dismal rate of identification of anonymous bodies, Deputy Inspector General of Police, Dehradun Range, Sanjay Gunjyal has given a number of important directions to police personnel to improve the existing pattern of investigation in such matters.
Floral tributes paid to Gurudev Tagore
Mussoorie, May 7
Eminent historians, social activists and citizens of the town commemorated the 151th birth anniversary of Rabindranath Tagore, the noted writer, poet-philosopher of his age, today.


45 huts demolished in Doon
Dehradun, May 7
A team of Dehradun Municipal Corporation (DMC) led by Additional Mukhya Nagar Adhikari, Harak Singh Rawat, dismantled 45 huts covered with tin sheds and three pucca house on the banks of Rispana river in the day today.
Encroachments being removed by Dehradun Municipal Corporation at MDDA colony,Chander Road in Dehradun on Monday. A Tribune photograph
3 snakes caught from tank, released in jungle
Dehradun, May 7
Three snakes, two of 5.5 ft length and one 8 ft long, were caught from a sewage tank of a resident situated at Kalindi Enclave in the city yesterday. The snakes were safely rescued and released in the jungles of Asharodi Range by Dr Abhishek Singh, founder president of Effect organioation, and his associate Ankit Puri.
Relatives, forum activists protest arrest of rape accused
Dehradun, May 7
Relatives of Arvind Kumar, who is accused of raping his tenant's daughter on April 24, and activists of the Protection Forum of Men's Rights today held a protest at Gandhi Park and later held a rally up to the police headquarters against his arrest.
Meeting of engineers
Dehradun, May 7
Vice Chairman, Mussoorie Dehradun Development Authority (MDDA), RM Sundaram, convened a meeting of all executive engineers and junior engineers with regard of the compounding camps to be held in ITI, Majra, Bannu School at Race Course and Junior High School at Kargi.
One held with rare species of owl
Pithoragarh, May 7
The Pithoragarh police today nabbed a youth with an owl, which is said to be of rare species and is fast disappearing from the Himalayan region, police sources said.