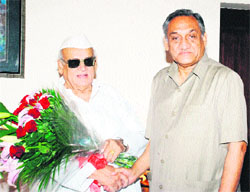 Uttarakhand Chief Minister Vijay Bahuguna with state Governor- designate Aziz Qureshi during a courtesy meeting in New Delhi on Friday.
Workshop on Hindi
Dehradun, May 11
The Indian Council of Forestry Research and Education organised a training workshop on Rajbhasha Hindi here yesterday. Addressing the workshop, Dr VK Bahuguna referred to Hindi as a medium that connects the entire country.
Lab technicians' strike called off
Dehradun, May 11
The Laboratory Technicians Association of government hospitals today called off it's five-day statewide stir after receiving assurance from Health Minister Surinder Singh Negi that their main demand of grade pay enhancement would be taken up during the next Cabinet meeting.
Token system to continue in Badrinath shrine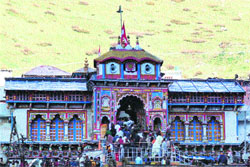 Dehradun, May 11
A 10-day trial of token system in the Badrinath shrine has yielded positive results and the temple committee has decided to continue with the system. Chief Executive Officer of the Badrinath-Kedarnath Temple Committee BD Singh said the token system was introduced a day after the opening of the portals of the shrine for 10 days on a trial basis.

A view of Badrinath temple.
Two held for opening fake bank accounts
Dehradun, May 11
The Clementown police arrested two youngsters, Pankaj Kumar and Satish Aggarwal, residents of Ludhiana, for opening fake accounts and getting ATM cards on the basis of these accounts in Ludhiana.
14 Canadian nursing students begin internship at Doon Hospital
Dehradun, May 11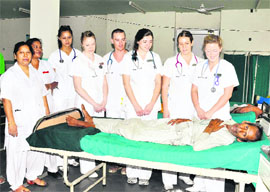 To get acquainted with tropical diseases and their treatment, a group of 14 nursing students from the Nursing Faculty Camosun College, British Columbia, Canada, began their four-week internship training at the Doon Hospital. Led by teachers Dianne Perry and Renate Gibbs, the students today visited the children's ward and the general ward. "The cases of tropical diseases are seldom reported in Canada but still the disease continues to be on the radar of our government.


Canadian nursing interns with a patient at Doon Hospital in Dehradun on Friday. A Tribune photograph

Chhattisgarh Speaker on Char Dham yatra
Mussoorie, May 11
The Speaker of the Chhattisgarh Vidhan Sabha, Dharmendar Kaushik, on his way to the Char Dham yatra stopped in Mussoorie for a few hours yesterday. He said he would pray at the shrines for an early end to Naxalism in Chhattisgarh.
Strike on May 18 in support of labour laws
Mussoorie, May 11
Hotel, school and construction workers' union under the banner of Trade Union Coordination Committee has called for a one-day strike on May 18 in support of their demands to implement labour laws and minimum wage plan in Mussoorie.
Students taught lessons on biotechnology
Dehradun, May 11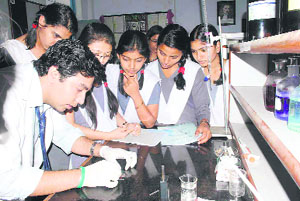 A workshop on "Helixomania" was organised by the department of biotechnology, Dolphin PG Institute, here today to impart knowledge and training to students by experts regarding basic techniques of biotechnology. Addressing a gathering, Arvind Gupta, chief guest of the occasion, said biotechnology was as its name suggests was a technology based on biology but it also used other sciences like agriculture and medicine


Students learn about an experiment at a workshop on biotechnology at Dehradun's Dolphin Institute of Bio-Medical Sciences on Friday.

40,000 revenue cases lying pending
Dehradun, May 11
Uttarakhand Revenue Board chairman Subhash Kumar has expressed concern over rising number of cases linked to the Revenue Department.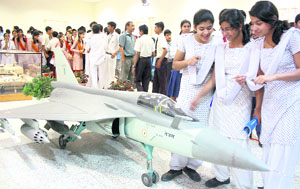 Girls watch the prototype of Tejas aircraft on Technology Day at Instrument Research and Development Establishment in Dehradun on Friday. A Tribune photograph
Kisan sansad today
Dehradun, May 11
Naresh Sirohi, general secretary of BJP Kisan Morcha, said that all the issues pertaining to farmers would be discussed at the kisan sansad slated to be held in Delhi on May 12 and May 13.
Sports Minister visits Suddowala
Dehradun, May 11
Uttarakhand Information Technology and Sports Minister Dinesh Agarwal today visited Suddowala in Dehradun for selecting land for the construction of a proposed international stadium.