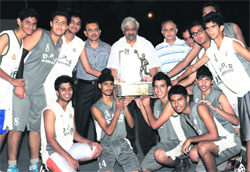 Members of Delhi Public School, New Delhi, who lifted the All-India Afzal Khan Basketball Tournament, with the winning trophy at Doon School in Dehradun on Sunday. A Tribune photograph
Minister livid over substandard work at sewerage project
Mussoorie, April 30
The state Youth Welfare, Sports and Planning Minister, Dinesh Aggarwal, on his day-long visit to the town reviewed development works prior to the tourist season with the officials from various departments, Cabinet Minister Dinesh Aggarwal, livid at the substandard work being carried out in the ongoing sewerage project in the town under Jawaharlal Nehru Urban Renewal Mission (JNNURM) by Peyjal Nigam, said that if the officials were not interested in working in the department they should tender their resignation and transfer themselves to some other areas.
CM's greetings on May Day
Dehradun April 30
Chief Minister Vijay Bahuguna has extended his wishes to the workers on the occasion of International Labour Day. He said the occasion must remind them to remain united and become aware of their rights.
SJA celebrates Labour Day with fervour and zeal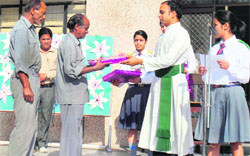 Dehradun, April 30
St. Joseph's Academy (SJA) celebrated Labour Day, an important event in the school calendar, with great fervour and zeal here today. The school has always acknowledged and appreciated the contribution of its real workforce, the ancillary staff.


St. Joseph's Academy Vice-Principal Bro Antony KJ honours workers of the school on the eve of May Day in Dehradun on Monday. A Tribune photograph

Dr Manral's appointment on key post resented
Dehradun, April 30
Dissent is simmering among senior medical officers in Uttarakhand over the backdoor entry granted to yet another retired doctor this time on a key administrative post in gross violation of the service rules, even as the model code of conduct was in place in December 2011 for the 2012 Assembly election.
Follow norms, SSP tells wedding hall owners
Dehradun April 30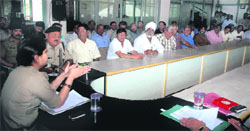 Senior Superintendent of Police (SSP) Neeru Garg convened a meeting of members of the Wedding Halls Association here today.






SSP Neeru Garg addresses a meeting of wedding hall owners and hoteliers in Dehradun on Monday. A Tribune photograph

Contractors form body, express concern over tax hike
Dehradun, April 30
The contractors related to various departments of the state government have come together under one umbrella and created their association in the name of Contractors' Sanyukt Sangharsh Samiti at the behest of MES Builders' Association of India in the city today. Atul Parashar has been appointed as the president and PC Thapliyal as the spokesperson of the association.
DM's directive to schools
Dehradun, April 30
District Magistrate Ravinath Raman has directed the management of all the public schools to provide him with the details regarding admission to poor children under Right to Education Act without any
Captivating performance by cultural troupe from Assam
Dehradun, April 30
The Asom Association of Dehradun celebrated Rongali Bihu with much fanfare at the AMN Ghosh Auditorium, ONGC, Dehradun.
150 children take part in drawing, dance competitions
Dehradun, April 30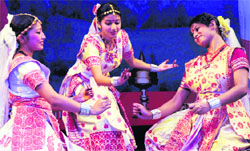 Hans Foundation held a drawing and dance competitions where 150 children of various schools participated at the ONGC community centre in the city yesterday. Children up to 8 were given an opportunity to give colour to their imagination through wax colour pencils and water colour medium.


An Assamese dance being performed at the annual Rangoli Bihu-2012 programme organised by the Asom Association in Dehradun.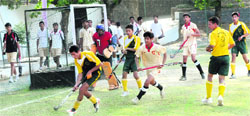 Welham, Nabha school win
Dehradun, April 30
Welham Boys' School, Dehradun, and Punjab Public School, Nabha, won their respective matches in the 8th S. Kandhari Memorial Hockey Tournament played at Welham Boys' School here today.

A match in the 8th S Kandhari Memorial Hockey Tournament played at Welham Boys' School in Dehradun on Monday. A Tribune photograph

B'ball results
Dehradun, April 30
The following are the results of the 6th Welham Girls' School All India Golden Jubilee Basketball Tournament played here today.