MLA Joshi inspects works
Mussoorie, April 20
Mussoorie MLA Ganesh Joshi expressed his dissatisfaction with the works being undertaken by officials of various departments.
'Cong Bhawan being used to malign Harish's image'
Dehradun, April 20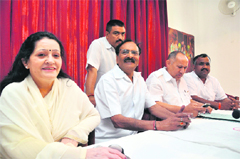 Groupism in the Uttarakhand Congress yet again came to the fore when party leaders owing allegiance to Union Minister of State for Parliamentary Affairs and Congress Haridwar MP Harish Rawat today alleged that Congress Bhawan in Dehradun was being used to malign the image of their leaders.

Former Dehradun Mayor Manorama Sharma, Congress spokesperson Surender Aggarwal and former legislator Ranjit Rawat at a press conference in Dehradun on Friday. A Tribune photograph

22 IPS officers transferred
Dehradun, April 20
The state government today transferred 22 IPS officers.
RTO, ARTO shifted
Dehradun, April 20
The enquiry ordered by State Transport Minister Surender Rakesh after his surprise visit to the Regional Transport Office (RTO) on April 11 has proved costly to Regional Transport Officer Sunita Singh, Additional Regional Transport Officer (ARTO) Dinesh Chand Pathoi and accountant Mahender Singh Jaiswal. They have been found guilty in the first report submitted to the minister and removed from their respective positions and attached with the headquarters.
State to have adventure sports academy soon
Dehradun, April 20

The state will soon have an adventure sports academy and a hospitality promotion and development board to promote tourism activities and enhance employment opportunities in the state.




RH Khwaja (left), Union Tourism Secretary, during a meeting in Dehradun on Friday.

Body of Home Guard jawan found
Mussoorie, April 20
Residents of the town were shocked after the body of a middle-aged person was found at Dhobi Ghat near Woodstock School here today.
TV shows are promoting one-upmanship, says Birju Maharaj
Dehradun, April 20


Besotted by art while still a child, the legendary Kathak dancer Pandit Birju Maharaj says his love affair with music would continue as long as he lives. But at times, the Kathak virtuoso finds himself out of touch with the dance and music expressed through television and popular cinema.




Pandit Birju Maharaj performs at Scholars' Home School in Dehradun on Friday. Tribune photo: Vinod Pundir

Training for civil defence wardens
Dehradun, April 20
A training programme for civil defence wardens was held at Saraswati Vihar Civil Defence Office here today.

Ruskin Bond to meet fans today
Dehradun, April 20
On the occasion of World Book and Copyright Day, master storyteller Ruskin Bond will visit Natraj, The Green Bookshop, tomorrow between 6 pm and 7 pm to meet his fans and sign copies of his books. Bond has enthralled children and adults alike for three generations and this year, several publishers have a series of new books in store for his readers.
Ruskin Bond
Responsibility helps face challenges: Expert
Nainital, April 20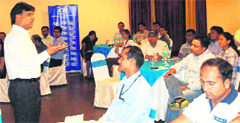 A workshop on 'Power of responsibility' was organised by the Uttarakhand State Council of the Confederation of Indian Industry (CII) at Rudrapur today.





Suresh M Semwal at a workshop organised by the Uttarakhand State Council of the Confederation of Indian Industry (CII) at Rudrapur on Friday.


HCA humble Doon Tigers
Dehradun, April 20
HCA beat Doon Tigers by 81 runs in a match during the 60th District Cricket League match here today.


A total of 22 schools participated in the Rashtriya Indian Military College (RIMC) All-India Inter-School Challenge Quiz, 2012. There was a preliminary round out of which the top six scoring teams were finalists.