Bahuguna announces 50 pc quota for women
Dehradun, May 14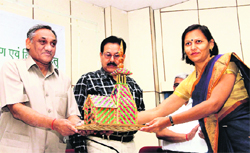 Chief Minister Vijay Bahuguna has announced 50 per cent reservation for women for the posts of sarpanch in van panchayats of the state. He also called for the strengthening of the van panchayats during a workshop held at ICFRE Auditorium here today.
Chief Minister Vijay Bahuguna being presented a memento by a member of Van Panchayat during a workshop in Dehradun on Monday. A Tribune photograph

Deities from Tehri take dip in Ganga
Haridwar, May 14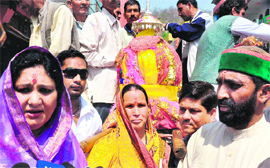 It was a confluence of faith and tradition at sanctum sanctorum of Braham Kund, Har-Ki-Pauri, today when the deities of Lord Vishwanath Maa Jagdishshila shrine were brought for a dip in the Ganga. These deities were brought in palanquins from the Bhilangana region in Tehri Garhwal district, which has been a tradition for years. After the holy dip, pundits performed rituals amid the chanting of hymns


The palanquin of the deity of Shri Vishwanat Jagdishila that was brought at Brahamkund, Har-ki-Pauri, from the Bhilangana block of Tehri Garhwal in Haridwar on Monday. Cabinet Ministers Amrita Rawat and Mantri Prasad Naithani are also seen in the picture. Tribune photo: Rameshwar Gaur

Rehabilitation panel for nomad Van Gujjars
Dehradun , May 14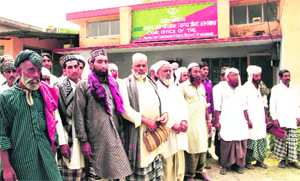 Uttarakhand Chief Minister Vijay Bahuguna has announced to set up a high-level rehabilitation committee for nomad Van Gujjars living in the forests of Uttarakhand. The committee would look into the rehabilitation and other issues pertaining to Van Gujjars.
Van Gujjars from the Kalagarh Tiger Reserve in front of the office of the Uttarakhand Chief Wildlife Warden to submit a memorandum in support of their demands in Dehradun on Monday. A Tribune photograph

Four nabbed for betting in IPL tourney
Mussoorie, May 14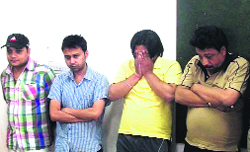 Four persons were apprehended by the Mussoorie police from near a hotel late last night for betting in the ongoing IPL cricket matches here today. All four are the residents of Meerut in Uttar Pradesh.


The bookies in police custody in Mussoorie on Monday. A Tribune photograph

TV artiste to hold workshop on film production in June
Mussoorie, May 14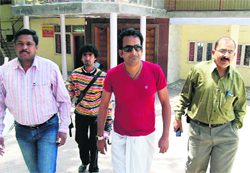 Eminent film and television artiste from the tinsel town Hemant Pandey, on the occasion of the completion of 100 years of Indian Film industry, announced today that a three-day workshop on theater and film production will be held in Mussoorie in June. He said the workshop would aim at developing creative skills among schoolchildren of the town.
Film personality Hemant Pandey walks towards a temple in Mussoorie on Monday

Examination reforms needed: Experts
Haridwar, May 14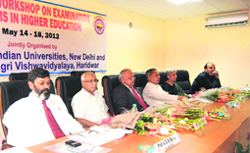 A four-day national seminar on 'Examination reforms in higher education' commenced today at Gurukul Kangri University here. The seminar is being organised jointly by the university and the Association of Indian Universities, New Delhi, which is being organised jointly by Gurukul Kangri University and Association of Indian Universities, New Delhi, wherein academicians, intellectuals, researchers and experts from various states are participating.

Experts during a workshop on examination reforms at Gurukul Kangri University in Haridwar on Monday. Tribune photo: Rameshwar Gaur

IT quiz in Unison school
Dehradun, May 14
To develop computer skills among students and celebrate National Technology Day, the computer department of Unison World School conducted an inter-house IT quiz here today.
70 students take part in quiz contest
Dehradun, May 14
An inter-school quiz competition was held by Edu Mentor in collaboration with the Sai Group of Institutions here today. More than 70 students from six schools like Shigally International Cambrian Hall, Pinehall, Carman and Laxman Inter-College participated in a written test.
Aryan team lift roller skating title
Dehradun, May 14
Aryan School won the 19th Dehradun District Roller Skating Championship while Asian School bagged the second position and Summer Valley School the third position here yesterday.
Doon to hold UN summer camp in May 2013
Dehradun, May 14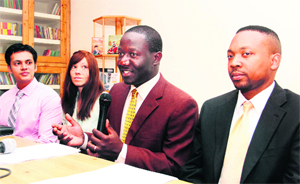 For the first time, Dehradun has been selected for organising a summer camp of the International Model United Nations in association with the UNESCO in May 2013 in which students from India and abroad would participate.
Guy Djoken (second from right), Executive Director, UNESCO Centre for Peace, USA, addresses a press conference in Dehradun on Monday. A Tribune photograph