M A I N N E W S
Molestation victim puts Sidhartha Mallya on notice
Moves Delhi Commission for Women over tweet questioning her character
Syed Ali Ahmed/TNS
New Delhi, May 19
Zohail Hameed (28), an American woman who has sent a legal notice to Royal Challengers Bangalore (RCB) director Sidhartha Mallya for his tweet questioning her character, today filed a complaint in the Delhi Commission for Women (DCW) against Mallya for quick action.
Zohail yesterday alleged that she was molested by IPL team's Australian recruit Luke Pomersbach at the ITC Maurya Hotel. She also alleged that Luke had beaten up her fiancé, Sahil Peerzada. Luke was arrested by the Delhi Police and released on bail by a city court today.
Chairman of the DCW Barkha Singh said, "We have received a complaint from Zohail Hameed and will send a notice to Mallya on the tweet. The complainant is an American citizen. Her mother was from Iran, while father was an Afghan national." Barkha refused to give the copy of the complaint to the reporters.
While talking to reporters in the DCW office, Zohail said, "I am very upset, hurt and disappointed by Sidhartha's comments posted on Twitter. It is a false statement. I did not meet Sidhartha Mallya. Sahil was invited to the IPL party and I was with him."
Mallya on Friday posted a tweet where he questioned the character of Hameed. Zohail has sought Mallya's unconditional apology for his tweets questioning her character, her advocate Jitender Garg said.
Garg said, "A legal notice is issued to Sidhartha Mallya for his twitter comment. We will wait for his reply. And if he refuses to apologise, we will file a defamation case against him."

Disappointed with charges: Luke
Tribune News Service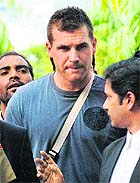 RCB's Australian cricketer Luke Pomersbach in New Delhi on Saturday. Tribune photo: Mukesh Aggarwal
New Delhi, May 19
Australian cricketer Luke Pomersbach, who has been accused of molesting an American woman and assaulting her fiance, said today that he was "very relieved" to have been granted bail and has full faith in the judicial system in India.
The 27-year-old cricketer, who plays for Royal Challengers Bangalore in the IPL, was arrested yesterday on a complaint by Zohail Hameed who claimed he had invited himself for drinks in her room in a five-star hotel last night and misbehaved with her.
Metropolitan magistrate Navita Kumari Bagha asked Luke not to leave the country and asked him to surrender his passport. He was asked by the court to submit two sureties of Rs 30,000 each.
The court also directed Luke to cooperate with the police in the investigation and not to tamper with evidence. The court dropped the charges under Section 454 (lurking house trespass) of the IPC.
"Obviously, I am very relieved after what happened in the court today. I am happy with the support I have got from my family, girlfriend back home and the RCB. I am looking forward to get to the bottom of the investigation," Luke told reporters outside the court here.
The Australian cricketer, who has a history of brawls and brush with the police in his country, said he was disappointed with the allegations levelled against him.
"I am disappointed with the way the allegations were made on me. It's sickening. I have faith in the judicial system (in India), looking forward to get to the bottom of it. I am happy that I have been granted bail," he said.Asked how the investigations would proceed in the coming days, he said, "I have no idea what is going to happen in the next few days."
A case was registered against Luke under various sections of the IPC, including Section 354 (outraging modesty of woman), 323 (hurt), 454 (house trespass) and 511 (punishment for attempting to commit offences punishable with imprisonment for life or other imprisonment).
(With PTI inputs)