Ticket to Bollywood
One fine day they gathered their guts, scribbled the name of a few 'known' people, packed their bags and off they went to the city that welcomes all kinds of dreamers - Mumbai. All alone and non-entities, these people held on to their dreams till they were noticed at the right time. And as luck would have it, these strugglers got their little corner in the world of fame and came to be known as stars!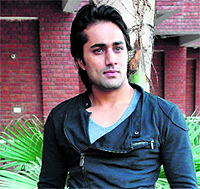 Big screen calling
Someone has taken the lead in saying goodbye to television for a while. Vishal Karwal, the winner of MTV's reality show Roadies and the face of popular TV series Dwarkadheesh, comes to Chandigarh to promote his debut Punjabi film Appan Pher Milange. So, all talks of working in TV have taken a back seat as he shares, "I want to concentrate on Punjabi films as an actor. I don't think there is any full-fledged Punjabi actor except Jimmy Sheirgill; there are only singers."
DEBUT act: Vishal Karwal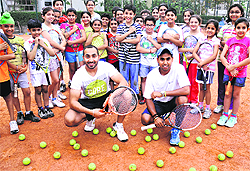 Child-like passion
Whether it is the corporate world or the service industry, the economic sector is brimming with job opportunities today. There are only a few, apart from the teaching fraternity, who can resist the lure of the hi-flying corporate world and work with the younger lot.

Tennis coaches Prince (L) and Manjeet with their students

Fashion's new destination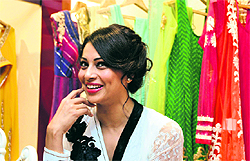 Aza inaugurated its first store in Ludhiana at the MBD Neopolis Mall on Friday evening. The multi-designer boutique features creations by India's most talented designers.  The fashion show organised on the occasion had elegant collections by designers such as Neeta Lulla, Nishka Lulla and Rocky S, who were also present on the occasion. Among the models were Candice Pinto, Anchal Kumar, Dipti Gujral and Niketan Madhok.
Sultry Siren: Bipasha Basu
in town
Voice of the young
Will we ever see two movies of the same production house being launched at the same venue? Can't say about movies, but Chandigarh witnessed two Punjabi albums - Vigde Sharaabi and Challa in Chandigarh - under the banner of T-Series being launched at Score, Sector-8, on Saturday.
Hands on hubby!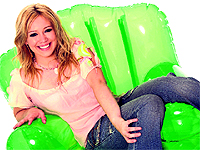 New mother Hilary Duff wants her husband Mike Comrie to be a stay-at-home dad to their newborn son Luca. The 24-year-old Lizzie McGuire star became mother to Luca in March and expects Comrie, 31, to stay at home because she prefers to resume her acting career, reported a website. "She had Mike trained to do diapers and bottle feedings, and she has put him in charge of other household duties, including making breakfast, doing laundry and light cleaning," a source said.
Career vice: Hilary Duff

The U-turn
Supermodel Tyra Banks says she was denied modelling assignments and used to get letters saying she was too fat. The 38-year-old America's Next Top Model host has voiced her opinion in support of Vogue magazine's anti-eating disorders initiative and criticised fashion designers for only giving preference to skinny models, reported a website.
Super move: Tyra Banks
Jessica Alba to star in Sin City 2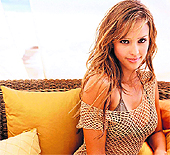 The Fantastic Four star Jessica Alba and actor Mickey Rourke have signed up for Sin City sequel, A Dame to Kill For. The 3D film will go on floors later this year and is set to be directed by duo Robert Rodriguez and Frank Miller, reported a website. The film will be shot in Austin, Texas at Rodriguez's Troublemaker Studios in October. The first installment of the crime thriller, set in the corrupt world of Basin City, starred Benicio Del Toro, Rosario Dawson and Bruce Willis and was released in 2005.
Busy bee: Jessica Alba
Parineeti wants to do a Fashion
Ishaqzaade star Parineeti Chopra says she would love to act in the remake of her cousin sister Priyanka Chopra's hit film, Fashion.
Yoga suits me: Miranda Kerr
Victoria's Secret model Miranda Kerr says she loves practicing yoga and pilates, as both exercises suit her.

A horror dream
After directing two action movies for Bollywood— Wanted and forthcoming action film Rowdy Rathore - Prabhu Deva now wants to make scary movies. "More than me, people want me to do action films only. Everybody tells me to do action films. But I would love to do horror films," he said.

Action man: Prabhu Deva
No space constraints
Legendary musician Elton John marked the 40th anniversary of his hit song Rocket Man by recording a video of it for astronauts in space. The 65-year-old singer sang the classic ballad at his Million Dollar Piano Show in Las Vegas and beamed the video of it to the European Space Agency, reported a publication online.
Pearls of wisdom
Eesha Koppikhar is an extremely fit actress and her weight does not fluctuate with her movies. She is married now but fitter than ever. Her husband Timmy is also into holistic health practices. She has trained in martial arts and different forms of fitness. She believes in fitness all the year round. She wants to open a chain of health centres and spas. She shares her fitness mantras with us.

Kim, Kanye perfect for each other: Khloe Kardashian
Reality television star Khloe Kardashian says sister Kim and new boyfriend Kanye West are right for each other because they are like "two peas in a pod". The 31-year-old socialite started dating the Stronger hit maker, 34, recently and her sister Khloe thinks they are a match made in heaven as they are so similar, reported a publication online.
Tailor made: Kim Kardashian and Kanye West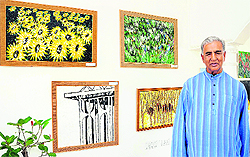 Back in time
The red sail. A brown boat. Dark clouds. A faint image of a boat in the horizon. This is the precise description of the paintings of Dr Vijay Sehgal's Lull Before The Storm. Created at the age of 15, during his study at Doon High School, it remains one of his favourite works till date.

Dr Vijay Sehgal. Photo: Parvesh Chauhan
Mirror mirror on the wall!
Women will remain women — always concerned about their looks. Be it looking into their own dressing rooms at home or their bathroom mirrors or while passing by a car or shop windows, women check their appearances eight times a day!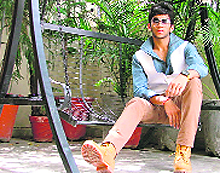 Formally arrived
The young brigade believes in being smart. They are aware of the latest and make it part of their routine to look 'in style' all the time. Stylish now does not mean only 'brands' but one's desire to look good and that's what warrants a second glance. A student of business management, debonair Shreyans Gupta is all for a stylish attitude.

Shreyans Gupta. Photo: Inderjit Verma
Green thumb
Finding a new flora
Strange is the world of plants. We think we have seen all sorts of plants but every now and then we see something new and think that this is the mother of all beautiful flora that exists, and we declare it as the ultimate. But then we find another.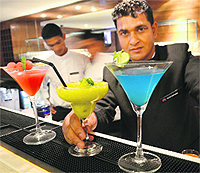 Conversation starters
Cama Group announced its entry into the region with the launch of Hotel Cama at Mohali. Conveniently located extremely close to Chandigarh, Hotel Cama exudes luxury, exclusivity and comfort. The hotel offers its guests 19 tastefully furnished luxurious guest rooms. Hotel Cama offers 12 deluxe rooms, two luxury rooms and five Cama special Verendah rooms, aptly named offering a huge verandah with each room.

Eat & Chat: Hotel Cama offers an interesting package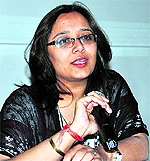 Feline charm
The teaser of the animation film opens on a happy note featuring a lioness and her cub in the jungle. Between the feline and kids' happy moments, it's not all sugar and spice. After all, we have long graduated from the Bambi days. An uprooted tree and all hell breaks lose!



Rashmi Ahad. Photo: Pradeep Tewari
High Spirits
Floridian Ice Tea
Try this peach flavored Floridian ice tea and you will forget LIIT.
London calling
BBC Entertainment through London Calling; a unique season of programmes, celebrates music, fashion, art, culture and history of Britain's capital city. The season will be led by live coverage of the spectacular Queen's Diamond Jubilee celebrations which begins  June 3 6:30 PM onwards with the Thames River Pageant, Concert from Buckingham Palace on June 4 at Midnight, and Services of Thanksgiving and Royal Procession on June 5, 1:45 PM onwards.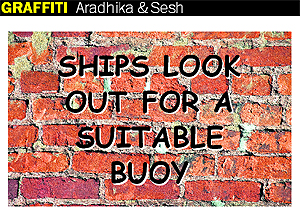 Hit it right
Abigail Jain who is playing the protagonist Sia in Humse Hai Life on Channel V is enjoying the role of a boxer. As the show has found takers the chirpy and vivacious actor is riding high on confidence