Cinema with a cause
Are we good in only falling in love and getting married eventually? Is there no other topic that Punjabi film industry needs to capture? Jatinder Mauhar, director of the soon to be released Punjabi movie Sarsa, leaves us with a thought.

Behind the lens: Jatinder Mauhar


Dream role
Vaishnavi Macdonald a well-known television actor dreamt to becoming a scientist in her childhood days but her destiny made her land up in the acting industry. Says Vaishnavi, "As a teenager we have many dreams, I wanted to become a scientist but I have become an actor."

Fashion's new destination
Aza inaugurated its first store in Ludhiana at the MBD Neopolis Mall recently. The multi-designer boutique features creations by India's most talented designers.  The fashion show organised on the occasion had elegant collections by designers such as Neeta Lulla, Nishka Lulla and Rocky S, who were also present on the occasion.
Photo: Himanshu Mahajan



In shorts, in style
If you thought shorts were only beach wear, think again! They have smoothly entered the category of daily wear and so far are the hottest casual wear, but raising the bar this season, we also have the sheer skirts and layered maxi skirts. "Sheer skirts are working their way up," says Geet Sethi, training consultant head from Espirit. She adds, "Sheer and layered maxi skirt trend was showcased at the Spring 2011 collection also, but it is gaining ground now with Hollywood actors like Katy Perry and Olivia Palermo taking it to the mainstream."



Disneyland calling
Nowadays you will see nearly every kid being a couch potato to the channels showcasing cartoons. One of this kind is the Disney Channel which fruitfully entertains the kids with cartoons like Shin Chan, Doraemon and many more. Recently the channel started an initiative called 'Jet-Set-Go' where the kids can win an all expenses paid trip to Disneyland, Hong Kong along with their families. One of the winners is our own lad Akshit Gureja from Chandigarh, who is just 11 years old and it is a dream come true moment for him. So what was to be done to win the contest?


Flying high: Akshit Gureja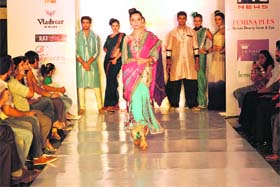 Designs on you: International Institute of Fashion Technology -IIFT , Mohali, presented Lakshya 2012, the annual fashion show at IT Park, Chandigarh.
stress buster
Mums the world
With Mother's Day just behind us many mothers have been thinking about 'just' being a mom. Children bring joy, love and countless other gifts in our lives, and there is no deeper bond than that of a mother and child. However, the joy of motherhood also brings along with them an additional load of stress.
MASTER CHEF
Say cheese!
So many times, it becomes difficult to make the perfect meal for those late dinners and surprise guests. Ready to serve your guests the easy to make and delicious to eat dish? Try out this one.


Beat acne with seaweed
Seaweed-based face wash could be an effective cure for acne as researchers have claimed that that an active ingredient from brown seaweed can cut spots by nearly two thirds. A new clinical trial of treatments containing the ingredient showed that the number of spots fell by 64 per cent whereas blackheads were cut down by 60 per cent just after eight weeks.

Fashionable act
The stunningly beautiful half-German half-Indian international model Evelyn Sharma first became the cynosure of all eyes, when she accompanied her designer friend Rocky S to the Ritesh Deshmukh-Genelia Sangeet ceremony before their wedding.
Bollywood newbie: Evelyn Sharma
Ravi Kishan's YRF project
It's good times for Bhojpuri superstar Ravi Kishan's Bollywood career. After working with directors like Shyam Benegal and Mani Ratnam, the actor has now bagged a film to be produced by Y-Films, a subsidiary of the Yash Raj Films (YRF) banner.
For a star, from a star
Shakespeare in Love star Gwyneth Paltrow has asked New Girl star Max Greenfield to be the first guest editor of her weekly online newsletter. The 39-year-old actress said that she is a huge fan of Greenfield, who plays a beloved egotist on the show, a publication said.
Failure for success!
In his almost a decade-old Bollywood career, Shahid Kapoor has gone through a lot of personal and professional ups and downs. But despite as many as six back-to-back box office disappointments behind him, he is undeterred because he feels success can do more harm than failure.


Charlize Theron hates pompous actors
Monster star Charlize Theron says she detests fellow actors who take their craft too seriously, insisting she finds it infuriating when performers behave as if they are "curing cancer".

Shamita Singha's a sommelier
Model Shamita Singha holds a WSET Level 2 certification in wines and spirits. She is a wine trainer for Diageo wines and champagnes in India and is still studying to perfect her senses. The supermodel who finds fashion and lifestyle more appealing than Bollywood, tells us about what it takes to be a wine taster which is an interesting hobby or career choice.

Winesome beauty: Shamita Singha
Keep it cool this summer
Television actor Arhaan Behll aka Krishna Singh, from Star Plus' most popular prime time show Mann Ki Awaaz Pratigya, knows how to handle the sweltering heat during summers and here he reveals his fundas for the same.