M A I N N E W S
PM dares Team Anna to prove corruption
charges against him


Says he will 'give up my public career' if any allegation is proved


'Happy as I am', scoffs at speculation about being next President
By Raj Chengappa
On board the PM's aircraft
Visibly angry and hurt over the allegations of corruption hurled against him by Team Anna, Prime Minister Manmohan Singh on Tuesday lashed out at the group stating it was "unfortunate that irresponsible allegations were being made" against him and 14 of his colleagues. Manmohan Singh asserted that he was prepared to "give up my public career" if any of the charges levelled by Team Anna were proved true.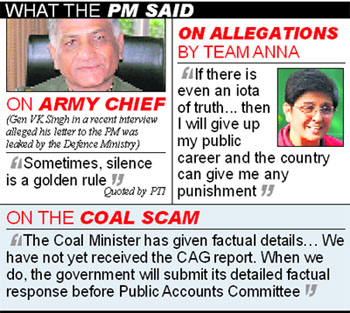 The Prime Minister also scotched speculation about him being made the next President of India. When The Tribune asked him for his reactions over such talk, he said categorically, "I am happy where I am (as Prime Minister)."
Speaking to the media on Team Anna's allegations while returning from Myanmar on board his special flight, the Prime Minister said, "The people of India should decide what wrong the Prime Minister has done that such harsh and hard words are being used against him. My whole career, be it as Finance Minister, leader of the Opposition in the Rajya Sabha or as Prime Minister, is an open book. If there is even an iota of truth in the allegations, I will give up my public career and the country can give me any punishment. But to use such words without rhyme or reason, I think the public in India should make up its mind whether this sort of politics should rule the roost in the country."
As regards the specific charges levelled against him by Team Anna when, as Prime Minister he also held charge of the Coal Ministry, he stated, "There have been reports about the allocation of coal blocks based on leaked portions of a draft CAG report on the issue. We have also received a letter on the same subject (from Team Anna). The Coal Minister has given factual details in response to these allegations and the Coal Ministry has put up all the information on its website."
He added, "We have not yet received the CAG report. When we do, the Government will submit its detailed factual response before the Public Accounts Committee as per the Constitutional procedure. Uninformed allegations and discussions based on leaked drafts are unfortunate. It is unfortunate that irresponsible allegations are being made without confirming the facts."
Asked about the state of the economy and the rupee's value falling to an all-time low in relation to the dollar, Manmohan Singh said, "The (economic) situation is a cause for concern. But I don't think we are anywhere near the 1991 situation." He said much of the problem is because of the "the global economic crisis" especially the Euro-zone but was confident that the "the crisis was not going to last long."