A lot needs to be done in Deputy Mayor's ward
Gagan K Teja
Tribune News Service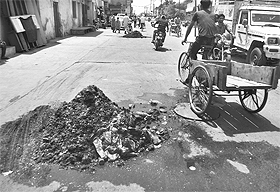 Garbage dumped on a road in Ward Number 34. Tribune photos: Rajesh sachar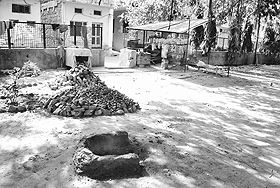 An ill-maintained park in the area.
Patiala, May 30
Despite the fact that the municipal councilor of ward no. 34 Sonia Devi is the Deputy Mayor of the Patiala MC, a look at her ward is enough to tell that it certainly cannot be called a well maintained ward. It's been maintained only in bits and pieces and a lot needs to be done to improve the condition of the ward.
The main areas in the ward include Topkhana Morh, Baba Dhyana Toba, Kuharan wali gali, Bagichi Mangal Das, Toba Vijay Singh, Agarwal gali, Botlan wali gali, Jajiyan wali gali, Kaintha wali gali,Shastra wali gali and Shiv Chandra Daftari Gali.
Residents rue that shortage of water supply and sewerage are a major concern in the area. Garbage disposal is another concern and one can see garbage heaps here and there as there is dearth of sanitation workers in the area. Many roads have developed potholes and needs re-carpeting.
The parks in the area are ill maintained and many parts have been encroached, which goes unchecked for past many months.
Notably, Sonia Devi had resigned from the post of Deputy Mayor accusing Mayor and Deputy Senior Mayor of financial irregularities. She had alleged that Senior Deputy Mayor Anil Bajaj for acting in dictatorial manner and deliberately creating unnecessary hurdles in the development works in her ward. The government did not accept her resignation and she was later given the grant she had asked for the development of the ward.
Councillor speaks

"I accept that there are certain problems relating water supply and sewerage but I have made every effort to eradicate these problems and the condition is much better than earlier. I have got a tubewell installed to solve the problem of water supply. Moreover, we have re-laid many roads and the work on others is also on. The existing sewerage pipes are very old and thus there is often problem on that front. Though, we have changed few of them, we will be changing the others also in the next term. As far as disposal of garbage is concerned, there is shortage of sanitation workers in the area due to which garbage heaps can be seen in certain parts. The MC has recently appointed many sanitation workers, so this problem will also be resolved soon."
Residents speak
Pawan Kumar: "The condition of the ward is pitiable. Though the councillor claims that she has spent crores on development, still the ward does not even have proper basic facilities, including water supply and sewerage."
Babu Lal: "Though few roads have been re-laid, one cannot see any significant development in the ward. Garbage heaps right in the centre of roads have made life pitiable."