Inflation has no impact on revenue-surplus budget


Petrol, CFL bulbs, tubes, umbrellas, candles to be cheaper


Common man spared of new taxes
Tribune News Service
Dehradun, May 31
At a time when the state is reeling under the impact of inflation, Finance Minister Indira Hriyadesh proposed a revenue-surplus budget without imposing burden of new taxes on the common man.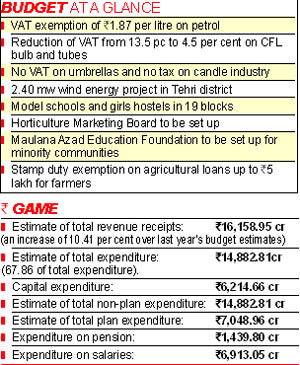 Tabling the budget today in the Uttarakhand House amid din created by opposition BJP MLAs, the Finance Minister said the key areas of her budget proposals were providing livelihood security, economic security, energy security, forest and environment security and international and external security.
In her short budget speech, Hriyadesh did not announce any new taxes but proposed VAT exemption of Rs 1.87 per litre on petrol against the recent hike of Rs 7.50 per litre on petrol prices.
"People have been weary of rising prices. The exemption of VAT on petrol is one way of transferring the burden of the common man on the government," said the Finance Minister.
She also announced the reduction of VAT from 13.5 per cent to 4.5 per cent on CFL bulb and tubes in order to incentivise the energy saving instruments. She also proposed waiving VAT from all types of umbrellas and also exempted the candle industry from taxes.
She also announced the setting up of first 2.40 megawatt wind energy project in Tehri district.
Announcing sops for women empowerment, the Finance Minister announced an allocation of Rs 425 crore for women and child development programmes and announced several measures to give impetus to girls education.
"I further propose setting up of model schools and girls hostels in 19 educationally backward blocks. To encourage girls to take up technical education, the government intends to start the session of first women engineering college in 2012-2013," the minister said.
Announcing benefits for the farming community, the minister announced the exemption of stamp duty on agricultural loans up to Rs 5 lakh for farmers. "My government is keen to strengthen the hands of farmers and for this we have proposed setting up of Horticulture Marketing Board," she said.
Announcing the setting up of night shelters on the Char Dham route, the minister said these would be no liquor and tobacco zones and used by hermits and pilgrims.
For the welfare of minorities, the Finance Minister said Maulana Azad Education Foundation will be set up for giving financial assistance to the poor and medium class minority community for higher education.
The minister also announced several incentives for promoting eco-tourism in the state, including the setting up Eco-Tourism Corporation.
However, the Finance Minister failed to announce any major scheme for extending medical facilities in the state.