CM mourns Sher Da's death
Dehradun, May 21
Uttarakhand Chief Minister Vijay Bahuguna has expressed grief over the death of renowned Kumaoni poet Sher Singh Bisht 'Anpad'. In his condolence message, the Chief Minister prayed for the peace of the departed soul and strength for the bereaved family members. He died yesterday.
Mansarovar yatra route being fenced for safety of pilgrims
Pithoragarh, May 21
The Pithoragarh district administration is trying to make the Kailash Mansarovar yatra safer this year by erecting an iron railing at the most risky point on the 21-km track route between Gala and Bundi camps. "Earlier, we had demanded a budget for the work from the Ministry of External Affairs at a meeting this year.
Rehabilitation of Refugee Families
Tibetan leader calls on Chief Secy
Dehradun, May 21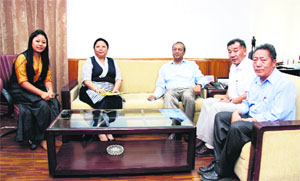 Gyari Dolma, home minister, Central Tibetan Administration, Dharamsala, Himachal Pradesh, called on Chief Secretary Alok Kumar Jain at the Secretariat here today and discussed issues relating to the rehabilitation of Tibetan people.
Gyari Dolma, Home Minister of the Tibetan government-in-exile, with Uttarakhand Chief Secretary Alok Kumar Jain in Dehradun on Monday.

New DM orders checks on sanitation, drainage facilities
Haridwar, May 21
Newly appointed District Magistrate Sachin Kurwe has now started impromptu inspection of the sanitation, drainage and other facilities in the city to ensure better working by the municipal body and other government departments.
No arrest in case of assault on ITI principal
Pithoragarh, May 21
Almora police has failed to arrest any of the culprits on the second of the violent incident at Almora ITI that took place on Saturday, injuring the principal of the institution. Two FIRs were lodged with the police from the side of the principal as well as from the side of the employees. "We have identified the culprits and are verifying their addresses and as soon the addresses are verified, we will arrest all eight culprits," said Suneel Kumar Meena, Police Superintendent of Almora.
DAV school principal accused of harassing students
Dehradun, May 21
A senior English teacher of DAV Public School (Defence Colony) has lodged a complaint with the District Education Officer levelling serious charges against the Principal of DAV Public School, who in turn has rejected these.
Car falls into gorge, 1 killed
Mussoorie, May 21
One person died and another seriously injured when the car they were travelling in fell into a 200 ft gorge near Picture Palace cinema hall on the Mussoorie-Dehradun road today.
Boy drowned in river
Mussoorie, May 21
A 12-year-old boy drowned in a river at Dhang village in the Ghansali Block of Tehri Garhwal district yesterday.
Woman held for killing husband
Haridwar May 21
A woman was arrested by the Haridwar police for conspiring with her lover in the murder of her husband here today. The woman Kavita admitting to her involvement with her lover Vijendra in killing her husband Tinku who was found murdered at his Jwalapur house this morning.
Legal awareness camp at Doiwala
Dehradun, May 21
A legal awareness camp was held at Doiwala block by Law College here yesterday. Gram pradhans, panchayat members, women self-help groups and social organisations attended the camp.
Book on Dr Mayaram Uniyal released
Dehradun, May 21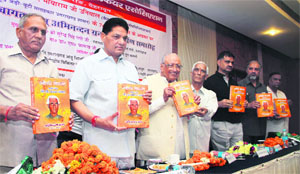 A book on the life of Dr Mayaram Uniyal was released on his 76th birth anniversary by the Uttaranchal Ayurvedic Aushdhi Nirmata Welfare Association here yesterday. Those who spoke on the occasion included patron of the association state Health Minister Surender Singh Negi and former Chief Minister Nityananad Swami were present on the occasion.


Former Uttarakhand CM Nityanand Swami (third from left) with state Health Minister Surendra Singh Negi (second from left) release a book by Dr Mayaram Uniyal (fourth from left) in Dehradun on Sunday. A Tribune photograph

Poet Pant remembered
Dehradun, May 21
Hindi Academy, Uttarakhand, held a discussion on the life and contributions of Hindi litterateur and poet Sumitranandan Pant to commemorate his 112 birth anniversary in the city yesterday. The edition of a magazine on the poet, Kedarmanas, was released by Dr Sudha Rani Pandey, Vice-Chancellor, Uttarakhand Sanskit University. Pandey said Pant was like a sun on the horizon of Hindi literature.
Kanpur team beat Chandigarh lads by 133 runs
Dehradun, May 21
Uttar Pradesh Cricket Association (UPCA), Kanpur, won their second match in the 30th All-India Uttarakhand Gold Cup Cricket Tournament by defeating ICL, Chandigarh, by 133 runs in a match played at Rangers' College ground here today.