CM hints at contesting poll from Sitarganj
Announces several projects for area's development
Tribune News Service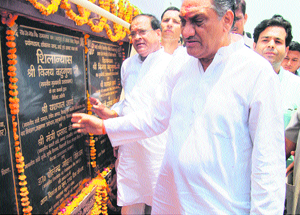 Vijay Bahuguna lays the foundation stone of a development project at Sitarganj on Sunday. A Tribune photograph

Dehradun , June 3
Uttarakhand Chief Minister Vijay Bahuguna, who probably went to Sitarganj, where the sitting BJP legislator resigned his seat, to test the waters to fight Assembly elections, gave broad hints that he could fight the poll from Sitarganj to enter the Assembly. He opened the coffers to launch a number of developmental works in Sitarganj but added that a final decision would be taken by the party high command.
But it was a heartening sight for him as Kiran Mandal, the local legislator who resigned his seat to get one of the major demands of the constituents met of getting ownership rights for Bengali immigrants from East Bengal of their leased land holdings, had organised a massive public reception for the Chief Minister on his first visit to Sitarganj.
Addressing the public rally, Vijay Bahuguna praised Kiran Mandal and said that he had set an example of sacrifice by resigning from his seat. Describing it as one of its kind in Indian history, he said that it was perhaps the first time that any MLA had sacrificed his Assembly seat for the sake of the development of his constituency and it's people.
Chief Minister Vijay Bahuguna recalled that Bengalis had made great sacrifices during freedom struggle and were committed towards the development of Uttarakhand also. Stating that the state government was fully committed towards the development of Sitarganj as per the sentiments and vision of Kiran Mandal, he said that Sitarganj could be described as a "Mini India" where Bengali community resided along with other communities.
He also laid foundation stones and inaugurated development projects worth Rs 4 crore, Rs 12 lakh Rs 36 crore for Sitarganj constituency that included construction of classrooms, art and craft room and toilet of Government Higher Secondary School, Ramnagat, Jaspur, strengthening of poultry farm in Rudrapur and construction of two godowns at Sitarganj with the capacity of 2000 MT. He inaugurated the building of the new excise office building at the collectorate premises. He announced Rs 2 crore for the development works in Sitarganj, Shaktifarm and other projects.
Chief Minister Bahuguna announced Rs 10 crore for flood-prevention projects in the area. Observing that Sitarganj was an industrial area and flood prone, he said that all possible preventive measures would be taken to save the area from floods. He announced Rs 58 crore for construction of 23-km-long road under Asian Development Bank (ADB) scheme. He also indicated establishing a polytechnic on the demand of minorities of the area and a degree college at Sitarganj. The other sops announced by the Chief Minister included upgradation of 30-bed hospital, modernisation of Primary Health Centre, filling up of vacant posts of doctor, extension of medical facilities, bus terminus at Sitargunj, establishment of high-tech and modern library.
On the demand made by Nainital Lok Sabha MP KC Singh Baba, he also announced construction of two bridges over a dry river and sports stadium at Sitarganj. Responding to the demand of Revenue Minister Yashpal Arya, he announced Rs 10 lakh for the beautification of Durga Mandir premises at Ravindranagar, Shaktifarm.
To please the farming community, he announced due payment of Rs 40 crore for sugarcane farmers. He said that even if the government had to amend the rules for the development works, it would do so as they were not above the public interest.
Chief Minister Bahuguna announced Rs 1 lakh each for the persons who died in Pantnagar gas incident and Rs 25, 000 each for injured. He said that a magisterial probe had been ordered into the incident. Stating that the state was reeling under the shortage of power supply, he assured the people to purchase power from Himachal Pradesh and give them relief from power cuts in the coming 15 days.
Chief Minister also made an appeal to the saint community not to oppose hydropower projects and contribute towards the development of the state.
Earlier, Bahuguna was accorded a warm welcome by the people of Sitarganj and presented silver statues of goddess Durga and Subhas Chandra Bose by members of the Bengali community, while the Muslim community presented him a cap and chaddar. Kiran Mandal presented a charter of demands relating to the development of the area, which he immediately accepted.
Also present on the occasion were Cabinet Ministers Yashpal Arya, Indira Hridayesh, Harsih Chandra Durgapal, Mantri Prasad Naithani, Chairman, Mandi Parishad, Shailendra Mohan Singhal, former Minister Tilak Raj Behad and CM's wife Sudha Bahuguna.