World Environment Day
Take precautions to check forest fires, says samiti
Haridwar, June 5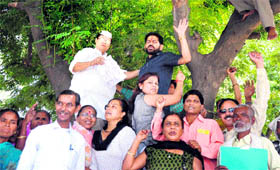 In view of the large number of incidents of forest fires in the entire Uttarakhand, a demand has been made to prohibit matchsticks, lighters and other inflammable materials in the forest range.

Environmentalists and statehood agitators climb trees on Envionment Day to draw attention on forest fires and degrading forest cover in Uttarakhand in Haridwar on Tuesday. Tribune photo: Rameshwar Gaur

Tibetans run to spread eco awareness
Mussoorie, June 5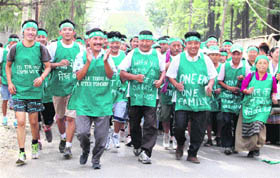 Members of the Regional Tibetan Women's Association (RTWA) along with the Tibetan community in exile organised a green marathon race here to educate people about conserving environment on the occasion World Environment Day today.

Tibetans participate in an awareness run on World Environment Day in Dehradun on Tuesday. A Tribune photograph

CM favours ban on polybags
Dehradun, June 5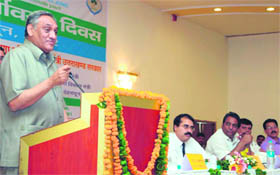 Uttarakhand Chief Minister Vijay Bahuguna has advocated banning polybags and setting up of an environment directorate in the state. Speaking as the chief guest of a programme organised by the Forest Department and the Pollution Control Board to commemorate World Environment Day here today, Bahuguna expressed concern over forest fires and said at present there was 2, 500 km long fire line in the state.

Uttarakhand Chief Minister Vijay Bahuguna addresses a function on World Environment Day in Dehradun on Tuesday. Tribune photo

Environment Day observed as black day
Dehradun, June 5
Uttarakhand Janmanch members today observed World Environment Day as black day. Janmanch members staged protests in Dehradun, Srinagar and Chamba regions of the state. Janmanch in Dehradun held a protest at Uttarakhand Forest Department headquarters. Raising slogans against state Forest Department, the protesters alleged that Forest Conservation Act was proving a stumbling block in the development of the region.
Sapling plantation drive on varsity campus
Dehradun, June 5

HNB Garhwal University's Environment Science Department organised a tree sapling plantation drive at its Srinagar Garhwal campus. Vice Chancellor of the university SK Singh, who himself planted a sapling, said environment today was a major concern all across the globe. He said that it was the duty of every person to safeguard the environment.
Teachers and staff of HNB Garhwal University plant saplings at Srinagar on Tuesday.

Save trees, save environment, says Governor
Dehradun, June 5
Uttarakhand Governor Aziz Qureshi said here today that it was alarming that environment, once the protector of mankind, was itself endangered and required protection.
210 children take part in skating rally
Dehradun, June 5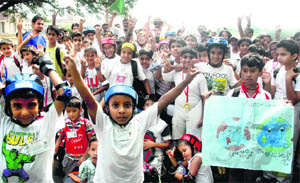 As part of World Environment Day, a skating rally was organised in the campus of Forest Research Institute, Dehradun. Director, FRI, Dr PP Bhojvaid, and Uttarakhand Principal Chief Conservator of Forests RBS Rawat flagged off the rally. A total of 210 skaters in the age group of 5-16 participated in the 2.5 km-long rally.
Young skaters participate in a rally to mark World Environment Day at the Forest Research Institute on Tuesday. Tribune photo: Vinod Pundir

Recruit 90 Tiger Guards: Chief Secy
Dehradun, June 5
Uttarakhand Chief Secretary Alok Kumar Jain, during a review meeting of the Forest Department, has directed department officials to recruit 90 "Tiger Guards" out of which 27 should be from the Gujjar community to prevent poaching. He also directed for regular raids, vigilance and patrolling to prevent poaching.
Jail bharo andolan on June 22
Dehradun, June 5
To protest against the escalating prices, the Uttarakhand BJP will launch a jail bharo andolan in Dehradun on June 22.