BEML chief suspended over Tatra
CBI to question him in truck 'deal'; Natarajan says he will come out clean
Ajay Banerjee/Syed Ali Ahmed/ Shubhadeep Choudhury
Tribune News Service
New Delhi/Bangalore, June 11
The Ministry of Defence (MoD) suspended Chairman-cum-Managing-Director of the government-run defence equipment manufacturer Bharat Earth Movers Limited (BEML) VRS Natarajan this morning. The move came following a request from the CBI seeking permission to probe him besides removing him from the post.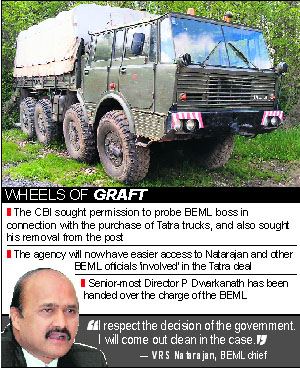 Natarajan faces a probe in the purchase of Tatra trucks which the BEML supplies to the Army. The CBI is of the view that Natarajan, who has been the CMD of the BEML for more than 10 years, is in position to influence the probe.
Sources in the MoD said the CBI would now have easier access to Natarajan and other BEML officials suspected to be involved in the Tatra truck deal.
Natarajan is the second senior official of a defence manufacturing unit to be under the CBI scanner. In 2009, the CBI had booked Sudipto Ghosh, Director-General of the Ordnance Factory Board (OFB), for illegal gratification.
Natarajan today said he respected the government's decision and maintained he would come out clean. He arrived at his office in Bangalore and left soon after the MoD announced his suspension. Senior-most functional BEML Director P Dwarkanath has been handed over the charge.
The CBI registered a case after Defence Minister AK Antony asked it to look into the Tatra case. NRI Ravi Rishi has been booked. He is the person supplying the trucks to the BEML for further supply to the Army.
The CBI is probing if the BEML based in Bangalore violated guidelines in buying and supplying Tatra trucks to the Army. The alleged violations include allowing a middleman to broker the deal - defence equipment has to be bought directly from the manufacturer. The trucks were also allegedly overpriced and cost the Army around 60 per cent more than what the Tatra, the manufacturer, sells it to the middleman.
Before he retired in May, then Army Chief General VK Singh said he was offered a bribe of Rs 14 crore to clear the purchase of 600 substandard Tatra trucks for the Army.
Natarajan said the General's assessment of the trucks was incorrect and he sought an apology from the General otherwise he would sue him for defamation.