Who will be next Mayor — Mahendru, Jyoti or Kochhar?
Deepkamal Kaur
Tribune News Service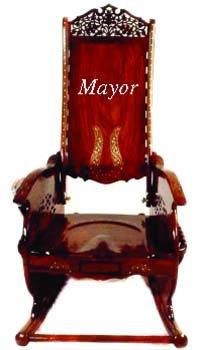 Jalandhar, June 12
Even as there are quite a few claimants to the Mayor's post from within the newly elected BJP councillors, Ravi Mahendru from Ward 38, Minta Kochhar from Ward 27 and Sunil Jyoti from Ward 5 are being seen as the frontrunners.
While Mahendru is a clear-cut choice of MLA from Jalandhar (Central) Manoranjan Kalia, Jyoti is the first choice of MLA from Jalandhar (North) and Chief Parliamentary Secretary KD Bhandari. Kalia had vouched for Mahendru even in the previous tenure, but the coveted post went to RSS loyalist Rakesh Rathour.
If the RSS has its say again, Minta Kochhar is likely to be the first choice. Jyoti, on the other hand, is said to have been enjoying the support of MLA Bhandari. BJP councillors falling in Bhandari's wards have fared well getting as many as 12 seats owing to which he can claim more say. Jyoti also enjoys support of former Mayor Rakesh Rathour with whom he has been closely attached since the past four years.
Both Jyoti and Mahendru are second timers and have been members of the finance and contracts committee of the MC from 2007 to 2002. While Bhandari had been trying to bring in his cousin Dinesh Bhandari in Ward 27 as the BJP candidate, Kochhar still managed to get the ticket.
Oldies lose
Several old timers, especially those from the Congress, who had been fielded again, have lost the MC polls. Septuagenarian Swaran Singh, who had been pitched in the poll battle, lost to BSP's Vipan Kumar in Ward 53. A law graduate, Vipan had also been a councillor in 1997.
Another elderly from the Congress, Sardari Lal, lost to Kasturi Lal of the BJP in Ward 52. Kasturi got 2,438 votes while Sardari Lal managed 1,039 votes.
Young faces lose
The new MC House perhaps has the maximum lot of middle-aged persons. Some new young faces fielded by the parties failed to make a mark. SAD's Rohit Kumar Vicky, Congress' Sakait Goraya Shetty and BJP's Rajan Angural all failed to strike a chord with the masses. Independent candidate and comedian from Ward 26 Rekha Kashyap, too, has not been able to succeed.
Migrant as councillor
Palni Appal of the Congress, originally hailing from Tamil Nadu, has become the first migrant councillor. He had tried his luck in 2007 polls also, but had lost to Gurmail Singh of the BJP, who now stands third in Ward 17. The ward includes Madrasi Mohalla with a sizable population of residents from the southern state. He has won by a margin of 11 votes from independent candidate Maninderpal Singh.
Maximum votes polled
Sushil Kumar Rinku of the Congress from Ward 46 has become the councillor to have polled maximum votes. He got 4,932 votes against his rival Rajan Angural of the BJP. Interestingly, Rajan is also the only losing candidate to have got as high as 4,688 votes. Congress councillor Sharvan Grover from Ward 49 also managed to get 4,582 votes. His rival from the BJP Ajit Bhardwaj managed 1,889 votes.
Gullu in support of BJP
Former Congress councillor Mahinder Singh Gullu, whose wife Kawaljit Kaur won from Ward 26, has announced his support to the BJP. He came at the residence of Jalandhar (Central) MLA Manoranjan Kalia and announced the decision.