Call to husband saves woman from boars
Pithoragarh, June 19
A call to her husband in distant Mumbai saved a village woman in Didihat from wild boars.
5 lakh take dip on Aasadhi amavasya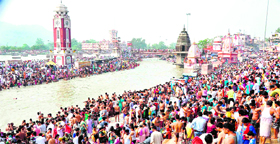 Haridwar, June 19
Lakhs of devotees from across the country took a bath in the Ganga on the occasion of Aasadhi amavasya here today.



A sea of devotees at Brahamkund, Har-ki-Pauri, on the occasion of Aasadhi amavasya in Haridwar on Tuesday. Tribune photo: Rameshwar Gaur

Kanwar fair begins on July 4
Movement of Kanwariyas limited to Haridwar
Dehradun, June 19
In a major development, Uttarakhand government has decided to limit movement of Kanwariyas up to Haridwar district this year.
Students seek restoration of water supply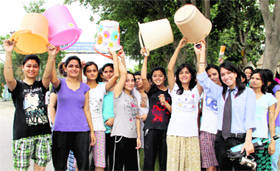 Dehradun, June 19
Feeling the pinch of water scarcity, students of Mahant Indiresh Medical College staged a protest outside the college premises, demanding immediate restoration of water supply to their hostel.




Students of SGRR Medical College stage a protest against inadequate water supply to their hostels in Dehradun on Tuesday. Tribune photo: Vinod Pundir

Rahul Gandhi Youth Brigade's appeal
Haridwar, June 19
Citing directions from Congress general secretary Rahul Gandhi, All India Rahul Gandhi Youth Brigade Uttarakhand chief, Sunit Singh Rathi, has urged youths to engage themselves in social causes to pave the way for a better society.
Compensation for road accident victims
Dehradun , June 19
Uttarakhand Chief Minister Vijay Bahuguna has sanctioned Rs 1 lakh each to the families of the persons who died in a road accident near Sahiya while on their way to Chakrata from Vikasnagar on June 9.
Thief arrested for stealing two-wheelers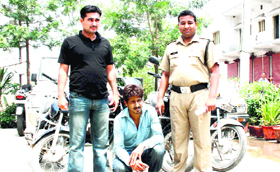 Dehradun, June 19
Patel Nagar police arrested Pankaj Dondhiyal, resident of Chanderbani, Patel Nagar, for stealing four two-wheelers today. During checking at St Jude Chowk, the police suspected Dondhiyal who had covered the number plate of his motor cycle with mud, and asked him about the documents related to motor cycle.

A thief in police custody in Dehradun on Tuesday. Tribune photo: Vinod Pundir
Book on Garhwali poetry, culture released
Dehradun, June 19
Garhwali Publications has released a book titled "Garhwali Kavya ka Udhbhav, Vikas Evam Vaishishtya," written by Jagdamba Prasad Kotnala.
Excers' Cricket Club, Himalayan Cricket Academy romp home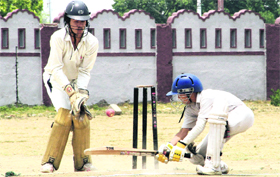 Dehradun, June 19
Excers' Cricket Club, Lucknow, and Himalayan Cricket Academy, Dehradun, won their respective matches in the Shyam Dutt Joshi Memorial Cricket Tournament played at Survey Stadium here today.



A batsman in action in a match during the Shyam Dutt Joshi Memorial Cricket Tournament under way at Survey Stadium in Dehradun on Tuesday. Tribune photo: Vinod Pundir