Harak Singh sworn in as Cabinet minister
SMA Kazmi
Tribune News Service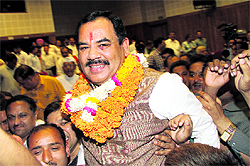 Rawat being felicitated by his supporters. Tribune photos: Vinod Pundir

Dehradun, June 9
Harak Singh Rawat, Congress legislator from Rudraprayag and senior party leader, was here today inducted into the Vijay Bahuguna Cabinet, ending the suspense about who would be the last to become minister in the state government.
Harak Singh was administered the oath of office and secrecy as a minister by Governor Dr Aziz Qureshi at a simple ceremony at Raj Bhawan.
Interestingly, Harak Singh Rawat, who was the Leader of the Opposition in the previous Assembly, was a front-runner for the post of Chief Minister after the last Assembly elections along with other senior state party leaders. He was also reportedly unhappy at the choice of Vijay Bahuguna as Chief Minister. He was quite vocal against the Congress government in the state and even called it a "rag tag" combination.
Harak Singh wanted the post of Deputy Chief Minister but the party high command did not oblige him. He also publicly announced that he would not accept any post less than Deputy Chief Minister and had taken a vow at the Dhari Devi temple in this regard.
A total of 11 ministers, including Chief Minister Vijay Bahuguna, formed the state government while the last slot was kept vacant. Other groups also started mounting pressure on the Chief Minister by including Independent legislator from Tehri Dinesh Dhanai, who extended support to the Congress government.
However, Harak Singh sided with Union Minister of State for Agriculture and Parliamentary Affairs Harish Rawat, who was also angry for being denied the top post in the state government. Harish Rawat also exerted pressure on the party high command to induct Harak Singh into the ministry. There were rumours that he could have rocked the Congress government by jumping the fence if kept out of the Cabinet for long.
With the Sitarganj byelection fast approaching, the high command finally agreed to give him the vacant slot in the state Cabinet. The move was also aimed at weaning him away from the dissident Harish Rawat camp.
Chief Minister Vijay Bahuguna, Assembly Speaker Govind Singh Kunjwal, Parliamentary Affairs Minister Indira Hridayesh, Irrigation Minister Yashpal Arya, Health Minister Surendra Singh Negi, Panchayati Raj Minister Pritam Singh, Labour Minister Durgapal, Planning Minister Dinesh Agarwal, former Chief Minister ND Tiwari and Vice-Chairman of the State Planning Commission Mayukh Maher were present at the swearing-in ceremony. Chief Secretary Alok Kumar Jain conducted the ceremony that was attended by many legislators and officials.
Later talking to mediapersons, Harak singh said he would try to come true to the faith reposed in him by the party leadership.