CHB moots transfer of flats before 5 years
Chandigarh, June 22
In a significant development, the Chandigarh Housing Board (CHB) has proposed a major change in rules regarding the re-allotment of its dwelling units. Once approved, the ban on the sale of a dwelling unit before five years from the date of possession, would be removed.
Sleepless South

Chandigarh, June 22
The arms of 28-year-old Rekha, a working woman and mother of an eight-month-old baby, are sore from continuously fanning her child during long unscheduled power cuts in her sector over the last two days. She has been unable to sleep at night and it is affecting her work at office.

Residents sit in the open at night following an unscheduled power cut in Sector 42, Chandigarh, on Friday. Tribune photos: Pradeep Tewari
Water problem goes from bad to worse
Chandigarh, June 22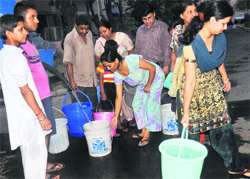 Residents of Kendriya Sarkarth Karamchari Awasiya Sudhar Kalyan Sabha Colony in Sector 7 have requested the municipal corporation authorities to make provision for mobile toilets in their colony as overhead water tanks have been without water for the past two days.




Residents line-up to fill buckets from a water tanker in Chandigarh on Friday. Tribune photo: Vicky Gharu
70 kg ice cream destroyed
Chandigarh, June 22
In the second such operation this week, a joint team of the UT Police and health department raided an ice cream shop in Sector 20 and destroyed over 70 kg of adulterated ice cream.


monsoon preparedness
MC not yet up and about
Panchkula, June 22
Miseries of the residents in the town is likely to increase with the onset of monsoon season as the authorities concerned are yet to come out of their deep slumber to clean the kerb channels and storm water channels in the town.
Traders seek construction of first floor on booths
Panchkula, June 22
In view of the shortage of space being faced by the local shopkeepers in displaying their products, the Federation Urban Estate Panchkula (FUEP), here, today urged the Haryana Urban Development Authority (HUDA) to allow construction of first floor on booths/service booth located in various sectors of the town.
Sanitation drive launched in Phase XI, Mohali
Mohali, June 22
A three-week long sanitation drive was launched from Phase XI here today by the Chairman of the District Planning Committee, Harbhajan Singh Mann.
Boy taken ill after consuming fungus-infested bread
Chandigarh, June 22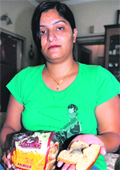 An eight-year-old, Aahan, was taken ill after consuming a fungus-infested bread here this morning. The expiry written on the packet was June 25. It was manufactured by an Ambala-based company. Aahan's mother, Madhu Khosla, a resident of Sector 37, noticed the fungus in the bread in time.






Madhu Khosla of Sector 37 shows the fungus-infested bread in Chandigarh. Tribune photo: S Chandan
Recovery of service tax
Estate officials go into sudden overdrive
Chandigarh, June 22
Officials of the Chandigarh Administration are on tenterhooks on the issue of recovery of service tax from the lessees of commercial tax running into crores.
Slight dip in temp likely, but humidity to make it worse
Chandigarh, June 22
Residents continued to face heat wave and sultry conditions in the tricity today. The weather office has predicted that there would be no relief from scorching heat for the next two days.
Dr Raj Bahadur to stay put for now at GMCH-32
Chandigarh, June 22
Dr Raj Bahadur is likely to remain the Director-Principal of Government Medical College and Hospital, Sector 32 (GMCH), till his successor is selected by the Union Public Service Commission (UPSC).
953 BJP activists court arrest
Chandigarh, June 22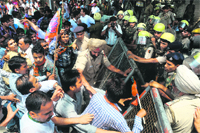 Chaos prevailed at the Sectors 7 and 19 lights when 953 activists of the Bharatiya Janta Party led by party's national general secretary Jagat Prakash Nadda, along with state president Sanjay Tandon, former Union minister Harmohan Dhawan and former MP Satya Pal Jain today courted arrest under the nationwide "Jail Bharo Andolan".
BJP activists protest the hike in petrol prices at the Sector 7 and 8 roundabout in Chandigarh on Friday. Tribune photo: S Chandan
misuse of govt houses
10 cases of sub-letting come to fore
Chandigarh, June 22
In a special drive carried out by the officials of the House Allotment Committee and engineering department, Chandigarh Administration, to check the misuse of government houses on account of sub-letting and utilisation of government houses for commercial purposes, 10 cases of sub-letting and misuse were today noticed.
PU hostels not for 'notorious'
Chandigarh, June 22
Students applying for admission at Panjab University involved in violence on campus and considered 'notorious' or involved in incidents even in city colleges may lose their chance to get admission at PU hostels. In a bid to keep the campus violence free, PU is planning to bar such "trouble makers" from hostel admission.
DAV shoot-out incident
SOPU activists protest outside VC office
Chandigarh, June 22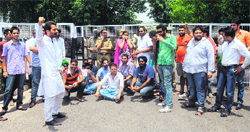 Members of the Student Organisation of Panjab University today protested outside the Vice-Chancellor office for over three-hours against the arrest of their party member allegedly involved in a shoot-out incident reported at DAV College in March this year.

SOPU party workers protest in front of the VC office at Panjab University in Chandigarh on Friday. Tribune photo: S. Chandan
mohali shoot-out incident
Raiding parties put into action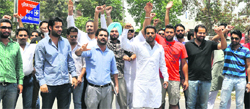 Mohali, June 22
Four special raiding parties have been put into action for the arrest of persons allegedly involved in a firing incident that took place in Sector 69 in which two persons sustained injuries.
SOPU activists protest at Phase VIII in Mohali on Friday. A Tribune photograph
Now, students can also opt for subjects of other streams
Chandigarh, June 22
Students of the School of Communication Studies (SCS) will not be restricted to the subjects taught in their department only, as from the coming academic session, students will have the opportunity to study additional subjects from different departments that interests them under the "Choice-based open credit system". This will be the first department under the faculty of arts where the facility is being introduced which will be further introduced to the other departments in 2013.