Stars in his eyes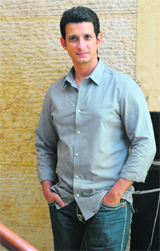 First things first; Sharman Joshi looks far younger and better in real life. No we are not just comparing him with the endearing character Rusy that he played in Ferrari Ki Sawaari, for which he had put on 10 kg weight and underwent a lot of cosmetic changes like sharpening the nose, popping out of ears, etc. But in person, 33 years sit very lightly on him. Of course, when he gets talking the wealth of experience of having worked in a whole lot of meaningful films does unravel. Without a doubt he admits the role in Ferrari has been the most challenging so far, "most out of my skin character."





Class ACT: Sharman Joshi

From a SCRATCH
Alright; all eyes right as the sexy looking Dj Teri moves behind the music console. And then something strange happens, as all senses are only strained for the music. The only existing music is the one that she scratches! This Dj from Ukraine is one of the few female DJ's who still incorporates the scratch technique into her house Electro, Mash Up, R&B and TOP 40 sets.
A helping hand

The ideal picture of a normal Indian home is that of the woman looking around domestic chores and the man running around for work. From times immemorial, women have been expected to give up their dreams, hopes and aspirations to look after the household, but breaking this thought process and providing a brand new platform to the career-oriented women of today is Sairee Chahal.

woman power: Sairee Chahal

Trousseau trove
Bandhan, the royal wedding exhibition at Hotel Taj, Sector-17, Chandigarh, showcases decent trousseau, bridal and wedding wear with unique as well as trendy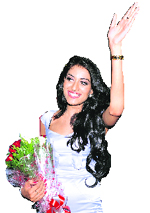 works on them. .
Princess & the crown
After years of waiting, Himangini Singh Yadu has brought an international beauty crown home! Winner of Miss Asia Pacific World 2012, Himangini is as elated as her mentor Sushmita Sen. A dream journey for a small town girl; the newest Indian beauty queen shares her take with us. "It's been an amazing experience," says Himangini, "the feeling is yet to sink in." Born in Kanpur and brought up in Indore, she has become an icon overnight.

Beauty & Brains: Himangini
Weight watch
Health wise
Pregnancy is a physiological process and weight gain is a normal or you can say comes complimentary with pregnancy.
Master Chef
Chop it Method
l Marinate lamb chops with half of chopped garlic, oil rosemary herb, and salt pepper and keep aside
The 'in' side
Outside the box
A canopy bed is supported by four tall posts with cross members joining the posts that are used for a supporting a fabric canopy cover, swags and curtains. A canopy bed can add mystery, romance and luxury to even the most humble of bedrooms. These beds add a strong focal point to a room and if you have a bedroom that is large enough, try adding a canopy bed to add some charm.


Pun'jab' Sandeep Joshi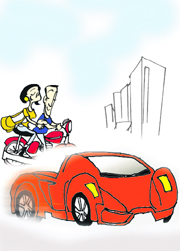 Chasing cars

: Darling, is this Ferrari available on EMI also?
star track
Neetu Chandra's makeover mantra
All is well
One of the lucky few…
Popular girl
Why Sonu Sood refused Dabangg 2?
Kiran loves Salman
Double deal
Urban lover boy
Bipasha's living life to the fullest!
Salman to endorse Sri Lanka?
Gurinder on move
Increasing clan
chatter box
Moving across borders
Playing the new Dev D
Going the SRK way
Fishing adventures
The scary highway to home
Change: the new game