Of superstitions and compositions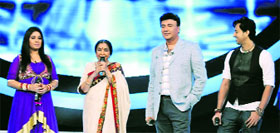 All of us have followed a superstition at some point or the other in our lives and the top-players in the music industry are no exception to this. While composer duo Salim-Sulaiman doesn't follow any ritual, Shreya Ghoshal and composer Anu Malik are dominated by superstitions. Read on to find out.
Anu Malik: I used to be superstitious but am not anymore. But if a black cat crosses my path, whether I am going to a recording or not, I will go ten spaces behind, say a prayer and carry on. It is a part of my psyche now. Before we start recording, I break a coconut and say 'Fresh Orange Take 1/2/3' or 'Fresh Strawberry Take 1/2/3' depending on how far the singers have progressed. All this may not mean anything to you but I love everything fresh and so it is a ritual I follow.
Salim-Sulaiman: We don't follow any ritual and are not superstitious about anything.
(But we think Sukhwinder Singh is their lucky mascot because he sings their title tracks which turn out to be chartbusters. For instance, Chak De India and Fashion Ka Jalwa are huge hits composed by Salim-Sulaiman and sung by Sukhwinder. Haule Haule from Rab Ne Bana Di Jodi is all set to become a chartbuster. Sukhwinder and Salim-Sulaiman are a successful collaboration.)
Himesh Reshammiya: I believe in God and everything I have is God's blessing. I also believe in astrology that is why Karzzzz has four Zs and I released my debut film on my mother's birthday (29 May). I also wear a lot of chains and rings and begin everything in God's name.
Shreya Ghosal: She used to be superstitious in the early days of her career. She says "Whenever I go for a recording, I pray to God and take aashirwad from my mom and touching her feet is very important to me. And if I don't touch her feet, something bad happens, like the recording gets cancelled or I have to give too many takes. So I believe if I take my mom's blessings, my day turns out to be good.  You will laugh when you hear this but there is a Bengali saying that one must not see a broom before doing something important or auspicious. So I used to be very particular about this, especially during my exam days."
Sunidhi Chauhan says she doesn't believe in superstitions at all. "I am not a superstitious kind of person but I know many people in the industry who are. Some of the people that I work with are superstitious and do recordings according to muhurat, so even I have to follow it." 

Chinese whispers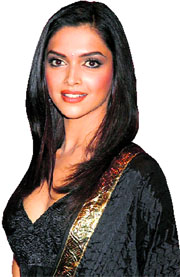 Deepika says she is shy but people think she is snooty. She is vulnerable and emotional but puts on a tough exterior in the public eye. She was offered both Meera and Veronica's roles in Cocktail and she picked the role of hot and sexy Veronica.
Back with a bang!
The comedy gurus are back and this time in a spiritual avatar. The popular Hera Pheri duo Akshay Kumar and Paresh Rawal, who made the entire theatre laugh at every second dialogue, is coming back with their new venture Oh My God.
The film, which is based on Umesh Shukla's Gujrati play Kanji Viruddh Kanji, has Paresh Rawal in the lead role playing the character of Kanahaiya. Akshay Kumar plays the character of modern day Lord Krishna. What unites these two characters in the film is the central plot. It's a tale of unconventional happenings in normal day to day lives. The film is set to release on September 28.

Love on the net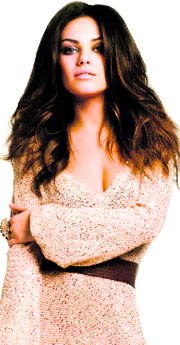 Hollywood actress Mila Kunis says she has never dated before and she is not very good at finding men.
The 28-year-old, who has been linked to string of actors like Justin Timberlake, Ashton Kutcher in the past, said she prefers internet dating than going out for dinners, reported a website.
"I'm OK in my personal life. I've never dated. I can say this honestly: I don't know what it's like to date. But also, how am I going to date? I'm not in one state long enough. "I would do Internet dating instead of going out to bars. In two seconds I would. It makes so much more sense! I love those sites. I go on and I pick the guys for my friends. I think it's great. It's online shopping! We all get together with our laptops and have a glass of wine. Then we message the guy," she said. —PTI
Close brush with animation
Delhi Safari, the internationally acclaimed 3D stereoscopic animation feature film, produced by Krayon Pictures and directed by Nikhil Advani, is all set for a nationwide release on October 19th. The movie has voices by Govinda, Akshaye Khanna, Boman Irani, Urmila Matondkar and Suniel Shetty and the music is by Shankar Ehsaan Loy. 
"The movie is a first of its kind in India," said Nikhil Advani. "It has a strong environmental theme; cutting edge 3D animation packaged in Bollywood tamasha and has been created for a global audience."
Delhi Safari was chosen for the "official selection" section at the Annecy Film Festival 2012 in France. It's the story of five animals who journey to Delhi to protest in front of the Parliament when their forest is encroached upon by builders. —HRM

Kareena won't drop Kapoor!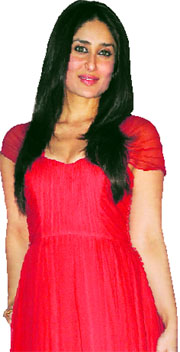 Actress Sharmila Tagore converted to Islam after she married Mansoor Ali Khan Pataudi. She became Ayesha Sultana Khan, later shortened to Ayesha Khan.
Nonetheless, she has always been referred to as Sharmila Tagore as that's the name she used on-screen and in public life for years.
Recently, some media reports stated that Kareena will be wearing her mother-in law Sharmila's sharara at her October 2012 wedding. Now, there is rumour as to whether Kareena will convert to Islam to marry Saif or not. And also whether she will change her last name or not. However, the actress maintains that she will continue as Kareena Kapoor Khan after the marriage. "There is no way I am dropping the Kapoor in my name," she said firmly.
True blue: Kareena Kapoor
Yoga for Freida
It seems that Freida Pinto's character in Knight of Cups is a fan or teacher of yoga. The 27-year-old showed some yoga moves and massages on the sets of her latest movie along with co-star Christian Bale, who is romancing the Indian beauty in the movie, a publication reported. The duo was spotted filming together on the beach. The 38-year-old famously temperamental star, was all smiles as he filmed romantic scenes with Pinto at Santa Monica's famous pier.
The plot of Knight of Cups is being kept very hush-hush, but it is described as the tale of a man in search of love and truth. In addition to Pinto, he has also been working with Cate Blanchett and Natalie Portman in recent weeks. However, the Oscar winner appeared to be having the most fun yet as he got up close and personal with the glamorous Slumdog Millionaire actress in the sunshine. —ANI

Tug of war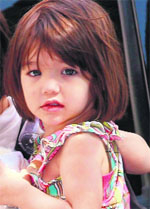 Actress Katie Holmes, who has filed for divorce from superstar husband Tom Cruise, is asking for "legal custody, primary residential custody and a suitable amount of child support" from the actor. The 33-year-old, who raises six-year-old Suri with Cruise, filed papers in New York citing "irreconcilable differences", ending their five-year-old marriage.
Holmes is also asking for a division of property in the divorce documents, although there is said to be a pre-nuptial agreement. The terms of the pre-nuptial apparently state that for each year the couple stay married, the Dawson's Creek actress collects USD 3million - to a maximum of USD 33 million after 11 years - as well as their palatial home in California. If their marriage had lasted more than 11 years, Holmes would have received half of Cruises's reportedly USD 250 million fortune. But since she has filed for divorce in less than six years, Holmes should only be entitled to USD 15 million as well as the couple's USD 35 million Beverly Hills Mansion.
The couple are worth around USD 275 million - much of that owing to Cruise's box office success. The Mission Impossible star married Holmes in November 2006 after a year of dating in a lavish ceremony held at an Italian castle. Cruise learned that Holmes had initiated divorced proceedings in New York while he was working on Oblivion in Iceland. This is another most talked high profile divorce in Hollywood. —PTI
The aftermath: Suri Cruise

Rom-coms saved my career: Matthew McConaughey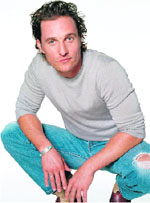 Hollywood star Matthew McConaughey, who has starred in films How to Lose a Guy in 10 Days and Wedding Planner, says romantic comedies saved his career.
The 42-year-old actor said that the success of 2001 film Wedding Planner ensured he was asked to do further films in the genre, but he never planned it like that, reported a website. "Truth is, I was in a colder part of my career at the time. I was coming off, what was it, 'U-571'? I had to try different things. I did action movies, crime; and then I did Wedding Planner. I thought, let's go see what it's like to just be light; never done that before. And then, it made a whole bunch of money, and they came back, and offered me more," said McConaughey.
Despite this, the Texas-born actor, who is starring in thriller Killer Joe, said that he still takes humour very seriously. "I take the comedy real seriously. There's a whole plan behind it. Even though those characters look like I'm just skating through, there's a design behind it. They look easy-breezy' but if you go digging too deep into the character, you sink the ship," he added.—PTI
Rib tickling: Matthew McConaughey

For the record
Rana Daggubatti has clarified that Bipasha Basu was never his girlfriend. His career in Bollywood has not taken off as people hoped it would. He says he has got many offers and even wants to produce movies here.