Dalai Lama's 77th birthday celebrated with gaiety
Tribune News Service
Dehradun, July 6
Minister for Planning, Sports and Youth Welfare Dinesh Agarwal said the matchless commitment towards democratic and human values by the Dalai Lama was evident when he allowed the Tibetans to elect their leader through a democratic process. HE said this at a ceremony to mark the 77 birth anniversary of the spiritual and temporal leader of the Tibetans.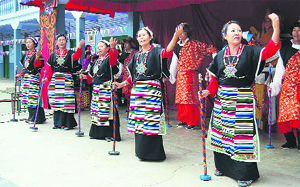 Members of the Tibetan Women's Association present a cultural programme to mark the Dalai Lama's birthday celebrations in Mussoorie on Friday.
"His Holiness the Dalai Lama has always inspired people all across the world and continues to do so," said Agarwal at the ceremony.
He gave an assurance to the community settled in the state that people of Dehradun would continue to extend help to them.
Former minister Hira Singh Bisht spoke of his meetings with the Dalai Lama, who had visited Dehradun on two occasions, and said he sensed optimism in his voice every time he spoke about Tibet.
On the occasion, a short biography of His Holiness the Dalai Lama was released by Agarwal.
Earlier, a mix of Tibetan and Indian cultural programmes marked the celebrations of the day.
"We know the lives of our Tibetan brothers and sisters is in great peril in occupied Tibet but today we only want to celebrate and wish our leader a long life," said Samkyi, Tibetan spokesperson.
Tibetans assemble at Buddha Temple
Mussoorie: Hundreds of Tibetans-in-exiles celebrated the 77th birthday of their spiritual head, the Dalai Lama, with fervour and gaiety here today.
The Tibetan community under the banner of the Tibetan Women's Association assembled at Buddha Temple in the Happy valley and offered special prayers for the long life of His Holiness.
Students from central school for Tibetans, the Tibetan Homes Foundation, accompanied by members from the Tibetan Women's Association also presented several cultural items to mark the grand celebrations in honour of the Dalai Lama.
Born on July 6, 1935, at Taktser hamlet in northeastern Tibet, the Dalai Lama was recognised at the age of two as the reincarnation of the 13th Dalai Lama, Thubten Gyatso.
He fled Tibet after a failed uprising against the Chinese rule in March 17, 1959, and based his government-in-exile here that never won recognition from any country.