Shifting of bus stand causes confusion among commuters
Haridwar, July 5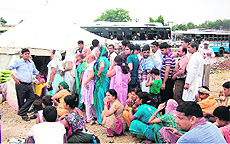 While the Kanwar fair is in it's initial phase, the district administration has shifted the bus stand from Mayapur to Rishikul College open ground. From Rishikul onwards, buses are being operated, but this makeshift arrangement is not only catching commuters by surprise but also the lack of basic amenities and irregular bus service are causing problems galore for the commuters.

Passengers wait at a makeshift bus station on the Rishikul ground in view of Kanwar Mela in Haridwar on Thursday. Tribune photo: Rameshwar Gaur

Cloudburst, landslide claim 2 lives
Dehradun, July 5
Two persons died while five others were injured in Uttarakhand due to incessant rain that has been taking place in the hill districts of the state for the past few days.
Girl held for trying to push 16-yr-old into prostitution
Dehradun, July 5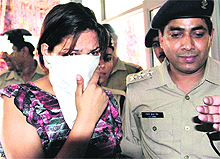 The city police arrested Aditi Chaudhary, alias Manat, resident of Ranikhet, Almora, from New Delhi for luring away a 16-year-old girl to Delhi to push her into prostitution. The accused was caught with the victim, daughter of Kamlanand, resident of CPWD Colony.



A girl arrested by the police for allegedly kidnapping a young girl from Dehradun on Thursday. Tribune photo: Vinod Pundir
Anti-big dam front formed
Dehradun, July 5
Several non-government organizations, including the Uttarakhand Mahila Manch, Nadi Bachao Andolan, AISA (CPML) and members of social organisations today decided to unite under the banner of the Baadi Jal Vidyut Pariyojana Virodhi Sanyukt Sangharsh Morcha. They described big dam projects as an attempt to deprive local people of their right to natural resources and decided to oppose them together.
Painting exhibition under way in Doon
Dehradun, July 5

Aaratrika, an acrylic painting exhibition, is being held in Dehradun these days. Aaratrika is Anju Chaudhary's first solo oil and acrylic painting exhibition and will conclude on July 7. The exhibition includes abstract as well as portrait work on the canvass. The use of colours has been very prominent, "deep waters" showing different shades of blue and green.


Visitors have a look at paintings during an exhibition at a hotel in Dehradun. Tribune photo: Vinod Pundir

15 doctors selected for PG course in UP
Dehradun, July 5
The Health Department has finally cleared the list of 15 doctors who will undertake a one-year PG diploma course in eight of the selected medical colleges in Uttar Pradesh.
AIFF to hold trials for football academies
Dehradun, July 5
The All-India Football Federation (AIFF) will be conducting football trials for their regional residential football academies in Dehradun this month. These academies will admit 1997 and 1998-born players only in these academies where world-class football training, education, stay and food will be given free of cost.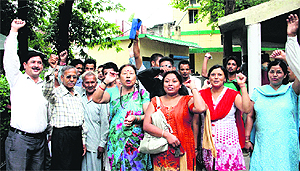 Banjarawala and Kargi residents stage a protest in front of the District Magistrate office in opposition of illegal construction being undertaken below high tension line in their locality in Dehradun on Thursday. Tribune photo: Vinod Pundir
CPI, CPM to launch agitation
Dehradun, July 5
The state units of the CPI and the CPM have decided to launch an agitation at all block and district headquarters throughout the state from July 30 to August 3 on the issue of right to food security to the poor.
BJP submits memo to XEN
Dehradun, July 5
The city unit of the BJP yesterday submitted a memorandum to the Executive Engineer of the Power Department, in which it mentioned that if power situation did not improve, the party would take to streets along with the public.
Warning to paper unit owners
Mussoorie, July 5
State Pollution Control Board (SPCB) member secretary Jairaj, speaking on the sidelines of a standing committee meeting, today said the SPCB with the initiative of the Central Pollution Board had prepared a strict charter for the 25 pulp and paper industries (in which both agro-based and recycled waste-based products are included) of the state.
DM recommends cancellation of school's registration
Dehradun, July 5
District Magistrate Ravinath Raman has recommended to cancel the registration of Raja Ram Mohan Roy Public School for increasing the school fees above the fixed parametres and not cooperating with the district administration in the matter.
Class XII student commits suicide
Dehradun, July 5
Diana, class XII student, committed suicide at her residence in Chukhuwala by hanging herself from a ceiling fan. Her elder sister Kerolene, who works in a private company, saw Diana hanging when she
Car thieves arrested
Dehradun, July 5
The police today arrested two vehicle thieves, Sarfraz and Ahasan, near the railway crossing at the bypass on a tip-off. The third accomplice, Kalu, who was standing on another location guarding the stolen vehicles, ran away from the scene. The police has recovered three cars, two Altos and one Indica, and one motor cycle from them.