M A I N N E W S
400 tourists stranded at Leh rescued
Yangchan Dolma/TNS
Leh, July 8
Over 400 tourists and locals trapped at the Chang La in Jammu and Kashmir's Leh district following a massive landslide were rescued today by security forces after a 12-hour operation.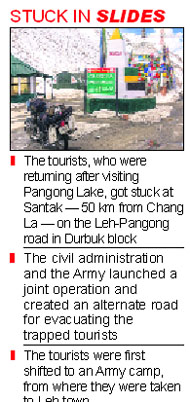 Official sources said the tourists were returning after visiting Pangong Lake. They got stuck at Santak — 50 km from Chang La — on the Leh-Pangong road in Durbuk block.
"A 250-m stretch of road was blocked due to landslides around 10.30 am on Saturday, leaving over 150 vehicles and 400 people, including women and children, stranded," sources said.
Sources said the civil administration and the Army launched a joint operation and created an alternate road for evacuating the trapped tourists. "The tourists were taken to an Army camp in Tangtse, where they were provided shelter, food, warm clothing and medical assistance. The quick- reaction medical teams administered oxygen and provided first aid to those suffering from high-altitude sickness," officials said.
DSP, Leh, Mohd Khaliq said: "As many as 350 tourists and some locals reached Leh safely in their vehicles. The rescue operation started yesterday evening around 8.00 pm and concluded this morning."
He said 12 tourists, who were shifted to government rest house at Nyoma for medical reasons, also reached Leh town this morning.
Sources said the district administration had closed the Leh-Pangong road for traffic following the landslide. "The Border Road Organisation could not undertake restoration work yesterday due to inclement weather. It has now pressed its men and machinery to restore the damaged portion of the road link and would take three to four days to complete the work," sources said.
The Army has kept its units on stand-by to assist tourists.
Earlier, on June 9, the Army and the civil administration had rescued around 400 tourists, including women and children, who were stranded at Khardung La near Leh.