Guide to best colleges

Results of Punjab Assembly Polls 2012


THE TRIBUNE DEBATE: NCTC

Army Chief's Age Row

2011: THE YEAR OF UPRISINGS

Punjab Public Transport, an investigation

WORLD CUP 2011: CRICKET SPECIAL

Turbans

EARLIER FEATURES

Man who dug death trap held
Gurgaon, July 8
The police have arrested the owner of the house in which the parents of four-year-old Mahi, who died after falling into an abandoned borewell in front of their house last month, were tenants. The police had registered a case against Rohtash Tayal under Sections 304, 188 and 336 of the IPC. Since then, Tayal had been evading arrest and had also applied for bail.
400 tourists stranded at Leh rescued
Leh, July 8
Over 400 tourists and locals trapped at the Chang La in Jammu and Kashmir's Leh district following a massive landslide were rescued today by security forces after a 12-hour operation. Official sources said the tourists were returning after visiting Pangong Lake. They got stuck at Santak — 50 km from Chang La — on the Leh-Pangong road in Durbuk block.
Unexpected water ingress delays boring of Rohtang Tunnel
Manali, July 8
Inside the deep recess 2,000 ft below the rocky, pine-covered mountainside that forms part of the strategic Rohtang Tunnel, engineers and workers wearing masks, fluorescent jackets and knee-high rubber boots wade through slush and water, as giant boomers and heavy construction equipment rumble about under the glare of floodlights to control and deviate the steady flow of water that was not supposed to have been there in the first place.
tribune special
NATO 'letter missiles' target American Seahawk copter
European consortium writes to Antony against rival US firm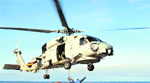 New Delhi, July 8
Over $1-billion Indian naval deal for 16 multi-role helicopters is being dragged into a controversy by a European consortium by taking an unusual step of "directly writing" to Defence Minister AK Antony sometime back against its American rival.

Stage set for Shettar to be Karnataka CM
July 8, 2012
SC quashes graft case against Maya
July 7, 2012
India, Pak fail to narrow differences
July 6, 2012
The 'God' of all particles is here, almost
July 5, 2012
Air India pilots call off 58-day strike
July 4, 2012
Cancel Pranab's candidature, he holds office of profit: Sangma
July 3, 2012
Rains will be delayed by a week in the North
July 2, 2012
BCCI bans four IPL players for fixing
July 1, 2012
Jundal, Saeed were in 26/11 control room in Karachi: PC
June 30, 2012
Petrol price cut by Rs 2.46 a litre
June 29, 2012
Govt-IIT standoff ends; new entrance format from 2013
June 28, 2012