M A I N N E W S
Petrol price cut by Rs 2.46 a litre
Tribune News Service
New Delhi, June 28
Providing some relief to consumers, oil companies have decided to reduce petrol prices by Rs. 2.46 a litre (excluding state levies) from midnight tonight, the second price cut this month. The drop in prices will wary from Rs 2.46 a litre to Rs. 3.22 a litre (including state levies) depending upon the local taxes in various states. In Delhi, the price decrease will be Rs 2.46 per litre.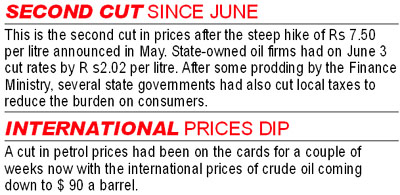 Petrol in Delhi will cost Rs 67.78 a litre with effect from midnight tonight as against Rs 70.24 a litre. A cut in petrol prices had been on the cards for a couple of weeks now with the international prices of crude oil coming down to $ 90 a barrel. However, the decision was not taken as the benefit of fall in oil prices was being neutralised to some extent by the depreciation of the rupee which is touching 57 to a dollar.
The good news comes before the fortnightly meeting of the oil companies. This is the second cut in prices after the steep hike of Rs 7.50 per litre announced in May. State-owned oil firms, had on June 3 cut rates by Rs 2.02 per litre. After some prodding by the Finance Ministry, several state governments had also cut local taxes to reduce the burden on consumers.The petrol price in Mumbai will be Rs 73.35 while in Chennai it would be Rs 72.27. The revised prices in Kolkata, Hyderabad and Bengaluru will be Rs 72.74, Rs 74.89 and Rs 76.39, respectively.
Even while announcing a price reduction, Indian Oil Corporation made the point that during current fiscal, the company has already accumulated losses of Rs 1,053 crore and Rs 2,323 crore for the industry as a whole on petrol sales as oil companies have not been able to increase prices in line with high level of international oil prices and eroded dollar-rupee exchange rate.
Oil companies said they are suffering high level of under-recoveries on the three sensitive petroleum products, namely diesel, kerosene and cooking gas.