Guide to best colleges

Results of Punjab Assembly Polls 2012


THE TRIBUNE DEBATE: NCTC

Army Chief's Age Row

2011: THE YEAR OF UPRISINGS

Punjab Public Transport, an investigation

WORLD CUP 2011: CRICKET SPECIAL

Turbans

EARLIER FEATURES

Delhi Investment Summit on Afghanistan
Let grey suits replace olive green: Krishna
New Delhi, June 28

Seeking to hard-sell Afghanistan to the private sector, India today asked the international community to invest liberally in the trouble-torn nation to ensure that the political or security vacuum arising in there after the drawdown by international forces in 2014 was not filled by extremists once again.
Tejas completes weapons test
New Delhi, June 28
Indigenous warplane Light Combat Aircraft Tejas is "inching ahead" on its path to enter the operational service with the Indian Air Force (IAF). The single-engined fighter has just completed a crucial weapons test at a firing range in western Rajasthan.



IIT eligibility
This year's class XII exam takers can reappear in 2013
New Delhi, June 28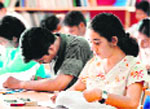 Students who took the board exams this year but did not score well will get a second chance to improve their school performance in 2013, the year of introduction of the new common engineering entrance test format for admission to IITs and central technical institutes. Under the new system, a student — to be eligible for IITs — must be in the top 20 percentile of the successful candidates in class XII.

Govt-IIT standoff ends; new entrance format from 2013
June 28, 2012
Four more Pak Army officers were part of 26/11 plot
June 27, 2012
Srinagar tense as Sufi shrine goes up in flames
June 26, 2012
India, EU to begin talks on free trade agreement
June 25, 2012
India strongly protests LoC firings at flag meet with Pak
June 24, 2012
Blow to Mamata as HC strikes down Singur land Act
June 23, 2012
Pushed to a corner, BJP backs Sangma's candidature
June 22, 2012
No fresh taxes in Punjab Budget
June 21, 2012
Pak SC disqualifies PM Gilani
June 20, 2012
Kalam opts out, BJP may turn to Sangma
June 19, 2012