Guide to best colleges

Results of Punjab Assembly Polls 2012


THE TRIBUNE DEBATE: NCTC

Army Chief's Age Row

2011: THE YEAR OF UPRISINGS

Punjab Public Transport, an investigation

WORLD CUP 2011: CRICKET SPECIAL

Turbans

EARLIER FEATURES

SP's son held for assault on African student
Jalandhar, July 7
The police on Saturday arrested the son of Nawanshahr SP (D) in connection with an assault on a foreign student of Lovely Professional University.
PGIMER golden jubilee celebrations begin
Chandigarh, July 7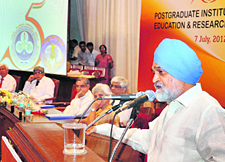 Year-long golden jubilee celebrations of the Post Graduate Institute of Medical Education and Research kicked off here today amidst talk on the leading health institute's glorious past and a promise for a better future.
Montek Singh Ahluwalia, Deputy Chairman of Planning Commission, at the inaugural function of the golden jubilee celebrations of the PGIMER, Chandigarh, on Saturday. Tribune photo: Pradeep Tewari


Boost for health sector likely in 12th Plan
BJP seeks PM's help to save ancient shrine
New Delhi, July 7
The spiritually-driven environmental tussle over the proposed hydroelectric power plants on the Ganga and its tributaries in Uttarakhand reached the highest political echelons with the BJP today seeking Prime Minister Manmohan Singh's intervention in saving the ancient Dhari Devi shrine.


Delhi Airport Metro line shut from today
New Delhi, July 7
Train services on the Delhi Airport Metro Express Line (DAMEL) would be suspended from tomorrow for around two months due to a civil structure defect. The announcement was made by the Secretary of the Union Urban Development Ministry Sudhir Krishna after a meeting of officials of the ministry, the Delhi Government, Delhi Metro and Reliance Infrastructure (the operator of the line). (Details on Nation page)

SC quashes graft case against Maya
July 7, 2012
India, Pak fail to narrow differences
July 6, 2012
The 'God' of all particles is here, almost
July 5, 2012
Air India pilots call off 58-day strike
July 4, 2012
Cancel Pranab's candidature, he holds office of profit: Sangma
July 3, 2012
Rains will be delayed by a week in the North
July 2, 2012
BCCI bans four IPL players for fixing
July 1, 2012
Jundal, Saeed were in 26/11 control room in Karachi: PC
June 30, 2012
Petrol price cut by Rs 2.46 a litre
June 29, 2012
Govt-IIT standoff ends; new entrance format from 2013
June 28, 2012
Four more Pak Army officers were part of 26/11 plot
June 27, 2012