In his autobiography, veteran journalist Kuldip Nayar recounts the times when he was witness to important events, like the crucial negotiations between the Akali Dal and the Congress in the 1980s. Excerpts:
the turmoil in punjab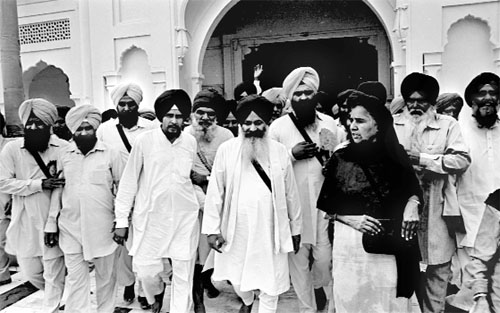 Sant Harchand Singh Longowal (centre) at Takht Sri Keshgarh Sahib just days after signing the Rajiv-Longowal accord Tribune photo by Karam Singh
When I first met Jarnail Singh Bhindranwale, he was already cast in his role of both hero and villain. He was as prominent as Sant Harcharan Singh Longowal, the head of the Akali Dal. Although the demand for a Punjabi suba had been conceded (the Punjabi-speaking districts were grouped together to form Punjab state) the Sikhs were generally unhappy with the solution.
Rare black tiger photographed
A very rare melanistic or black tiger has been photographed in the core area of the Similipal National Park in Odisha. "We have physical evidence on existence of black tiger inside the core area of the tiger reserve in the Similipal National Park," Forest and Environment minister Debi Prasad Mishra has said.
Victories stained with blood
On this day in 1497, Portuguese explorer Vasco da Gama set sail for India, a voyage that changed the politico-economic scenario of the subcontinent. A look at the life and times of the man whose discoveries are among the most important historical world events
Belu Maheshwari
Vasco da Gama rose from a middling position in the Portuguese society in a span of a few years to acquire the image of an icon of Portugal's national pride after his triumphant return from India. According to political economist Adam Smith, the event was one of the two greatest`A0and most important events recorded in the history of mankind. His voyages also changed the politico-economic firmament of Indian subcontinent forever.
Of adventure and peace
Wanaka is an idyllic little lakeside town in New Zealand that offers some lovely views and adrenalin-rush packed skydives
Angad Sodhi
The beauty of travelling lies in going off the beaten path. Everybody speaks of Queenstown, Christchurch and Auckland when it comes to New Zealand, but very few know about the hidden gem that is Wanaka, an idyllic little lakeside town, in South Island. Located, a 45-minute drive from Queenstown lies Lake Wanaka. And on its shore, lies the sleepy little town of Oanaka (Maori for 'the place of Anaka, who was a Maori chief of lore), or as it is now known Wanaka. With a local population of around 6,000, Wanaka is a resort town, where people come to ski, do water sports, hike and relax.
Wheels in reels
Sharman Joshi stole the Ferrari as well as the hearts of cinegoers in Ferrari Ki Sawari, as did Kishore Kumar in Chalti Ka Naam Gaadi, Amitabh Bachchan in the bus that ferried him from Bombay To Goa, Sunny Deol in his rumbling truck in Gadar and John Abraham speeding up on his Hayabusa in Dhoom. Deepa Ranade finds many vehicles that played key roles in films
Herbie Goes Bananas is my earliest memory of a car geared up to play a major role in a film — the moody Beetle car that kept a bunch of us school kids tickled with its antics. While Hollywood has always relied on the technical wizardry of vehicles in films, Indian cinema has probed the emotional connect. Stalwart filmmaker Bimal Roy transported the humble hand-drawn rickshaw from Kolkata lanes to being a cinematic emblem of human suffering in Do Bigha Zameen. But it wasn't easy for him to get the film started, for that matter it hasn't ever been easy casting means of transport in films.
Nora Ephron – the sharpest wit
The talented and fearless reporter Nora Ephron had many facets to her personality. A tribute to the versatile writer who died recently
Ervell E. Menezes
Does the name ring a bell? It won't for the brave new GenNext, who may not have seen her films but for many, it surely does for she changed the way women thought in the 1990s as those who've seen Sleepless in Seattle or You've Got Mail will readily agree. Ephorn also tried to bring a rapprochement between women libbers Gloria Steinhem and Betty Friedan because she did not believe in the passivity of her tribe. For, she was a very talented woman, who switched channels as and when she felt like it, showing her rarer versatility and that yearning desire to move forward. Ephron died last week. She was 71. Condolences poured in from all quarters leading with Tom Hanks.
Rahman to rock Olympics with Punjabi beats
A.R. Rahman is set to team up with Hollywood director Danny Boyle again — this time to compose a song for the London Olympics' opening ceremony. The music maestro reveals it will be a Punjabi song celebrating Indian influence in Britain.