Shell out 12.8% more for power in Punjab
Applicable from April 1 with retrospective effect
Jangveer Singh/TNS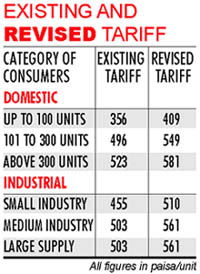 Chandigarh, July 16
Consumers of power in Punjab will have to pay 12.8 per cent more for electricity with the Punjab State Electricity Regulatory Commission (PSERC) affecting a 57 paisa per unit increase in domestic supply and 62 paisa per unit increase for industrial supply.
Continuous processing industry will have to shell out another 10 paisa per unit from November this year as Punjab State Power Corporation Limited (PSPCL) has to at times make purchase at high rates to meet its demand.
The power tariff order, which is due since April 1, has come just after the Dasuya bypoll. PSERC chairman Romila Dubey, however, claimed that the order had been delayed because the Punjab government finalised its Budget for the current financial year in June. She said free power subsidy commitment forms a major part of the order and that the commission had received this commitment from the state only a few days back. This subsidy comes to Rs 5,784 crore.
The tariff order is applicable from April 1.
The arrears on account of the tariff revision will be recovered in instalments to be decided by the PSPCL. The PSERC has accepted a revenue gap of Rs 1,899 crore for the current financial year. The PSPCL had determined an annual revenue requirement (ARR) of Rs 2,0415 for 2012-13. The PSERC pegged this down to Rs 1,7035 crore. This includes Rs 830 crore for Punjab State Transmission Corporation Limited (PSTCL). The PSTCL had demanded Rs 1,391 in its ARR submitted to the commission.
Romila Dubey said the PSPCL would have to increase efficiency and resort to resource mobilisation. She said the power utility would also have to review the cost of employees. She said transmission and distribution losses had come down to 18 per cent from 19 per cent last year. The target for next year had been fixed at 17 per cent.
The PSERC has approved a capital investment plan of Rs 1,100 crore for the PSTCL and Rs 2800 crore for the PSPCL in order to strengthen infrastructure and improve quality of service.
With the announcement of the tariff hike, electricity rates in Punjab are among the highest in the country. Dubey said this was partly because some states had started following a two-part tariff plan that had been recommended by the PSPCL for Punjab but was still on the discussion stage. She said the commission had gone in for a moderate increase despite the fact that the PSPCL had demanded a 55 per cent increase to cover the revenue gap.
In another development, private players will have to pay wheeling charges in order to protect the interest of the non-open access consumers.