Rishabh moves to semifinals

Tribune News Service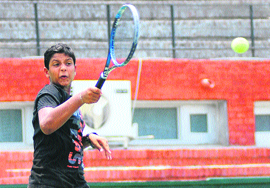 Mrityunjay Badola in action during a boys' (U-16) match at the CLTA Complex in Sector 10, Chandigarh, on Wednesday. Tribune photo: S Chandan

Chandigarh, July 18
Continuing with his winning spree in the boys (U-12) category, Rishabh Sharda defeated Naman Sehrawat in straight sets (4-1, 4-1) to move to semifinals round in the ongoing CLTA-AITA Talent Series Tennis Tournament for Boys and Girls (U-12 and 16) today.
The tournament being held at the CLTA complex and Lake Sports Complex, also saw
Abhumanyu Rozra overcome Yuvraj 4-5(5), 4-2 and 5-3 in a match under the same category. In other quarterfinal matches, Sahishnu Sharma defeated MS Karthik 4-0, 4-2 while Anmol Rattan Kamboj overpowered Asav Kumar 4-0, 4-1.
Other Results
Boys' singles (U-16) -- Manjot Singh bt Jotpal Singh 6-4, 6-1; Mritunjay Badola bt Rohit Kumar 6-4, 6-4; Param Pun bt Anuj Malik 6-2, 6-1; Nihit Rawal bt Anshuman Gulia 6-2, 6-2.
Girls' singles (U-12) -- Prinkel Singh bt Chelsa Stepen 4-0, 4-0; Ashpreet Bajwa bt Hanshika 4-0, 4-2; Alisha Menon bt Sehajnoor Dhillon 4-2, 4-1; Sarah Dev bt Taru Ahluwalia 4-0, 4-0.
Girls' singles (U-16) -- Aarushi Kakkar bt Charvi Saxena 6-2, 7-6(4); Pooja Moura bt Nimrat Walia 6-2, 6-1; Nikita Bishnoi bt Shrishty Dhanda 6-1, 6-1; Gayatri Kumariaha bt Prinkle Singh 6-4, 4-6, 6-4.
Boys' doubles (U-12) -- Anmol Rattan Kamboj and Abhimanyu Rozra bt Udgam Aggarwal and Shreyas Chopra 6-2, 6-2; Chiraz Dandona and Yuvraj Kooka bt Naman Sehrawat and Neeraj Yashpaul 7-6(3), 7-5; Savneet Bajwa and Sahishnu Sharma bt Akshit Chabra and Sehaj Sidhu 6-2, 6-1; MS Karthik and Asav Kumar bt Navjot Singh and Paramveer Singh 6-1, 6-3.
Boys' doubles (U-16) -- Santveer Singh and Sacchit Malhotra bt Kabir Manrai and Digvijay Partap Singh 6-4, 6-0; Conrad and Nihit Rawal bt Manjot Singh and Shrmay Dhawan 6-3, 7-5; Param Pun and Sagar Bains bt Rahul Seth and Krishna Rajput 6-2, 6-4; Paramveer Singh and Adhhyan bt Rishabh Sharda and Raunaq Marwaha 6-0, 6-1.
Girls' doubles (U-16) -- Aarushi Kakkar and Gurmehar Kaur bt Ashpreet Kaur and Ikshika Sangri 6-1, 6-1; Sarah Dev and Bani Singh bt Aastha Malhotra and Rubani Ahluwalia 6-1, 6-3.