M A I N N E W S
India inducts 3rd indigenous stealth frigate
Seven more in the pipeline, says Defence Minister
Ajay Banerjee/TNS
Mumbai, July 21
The Indian Navy is set to get a set of seven new warships that will be stealthier — less visible to enemy radars — than before and will carry supersonic cruise missile BrahMos hidden in its belly besides a complement of weapons and the latest phased array radars to provide a clearer picture of approaching threats.
Defence Minister AK Antony today told the media about the project. He said, "Contract negotiations are going on. Once that is done, the matter will be placed before the Cabinet Committee on Security (CCS)."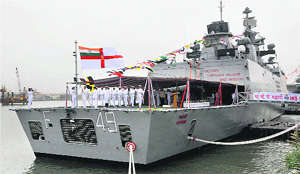 INS Sahyadri during its commissioning in Mumbai on Saturday. — PTI
The Defence Minister accompanied by the Chief of Naval Staff Admiral Nirmal Verma was here to commission the 6,200 tonne warship INS Sahyadri, which is the third and last of the Shivalik-class stealth frigates under Project 17 built indigenously at the Mazagon Docks Limited (MDL), here.
The first two ships in the class are INS Shivalik and INS Satpura that are now on active duty. The three have cost some Rs 10,200 crore and have been commissioned in the past two years.
The INS Sahyadri that got commissioned today is an indicator of the generational shift in India's warship-building capability. The 143m long ship can tactically fire weapons even before the enemy detects it.
The warship has long-range surface-to-surface Klub missiles, area defence missiles Shtil and Barak, anti-submarine torpedoes, 100 mm mounted gun and six-barrelled 30 mm gun. Ships like this will form the core of India's battle fleet in the first half of this century.
The set of seven new stealth warships - named Project 17-A - will be a derivative of the Shivalik-class frigates. These will cost some $9 billion (Rs 45,000 crore), but will incorporate newer building materials like composites besides a very high degree of automation to allow a smaller crew to operate it.
The keel-laying of the first warship of Project 17A is likely to be done next year and more than 80 per cent of the warship's components will be locally made.
MDL will build four and the Garden Reach Shipbuilders and Engineers Ltd (GRSE), Kolkata, will construct the remaining three.
The changes over the existing stealth frigates will help accommodate an advanced version of the Barak-2 Medium Range Surface to Air Missile (MRSAM) and a latest area air defence system that will include the 40km-range Shtil-1 MRSAMs, missile launchers besides a new E-band radar and BrahMos.
The crew will be reduced from the existing 257 (including 35 officers) to about 150 by introducing high levels of automation.
INS Sahyadri: Adding teeth to the naval fleet
Has 6,200 tonne displacement and is 143m long
Can hoodwink enemy radars, sensors by concealing its size
Has three-dimensional warfare capability — surface, air, underwater
Its weapons suites have anti-ship, anti-submarine, air-defence missiles
Powered by a unique combination of gas and diesel engines
Can stay in sea for more than three weeks or cover 10,800 km without refuelling