150 hurt in stone war ritual in Kumaon
Our Correspondent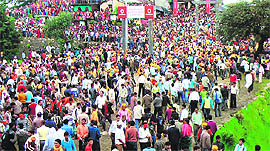 People participate in a stone throwing ritual in Champawat district.

Pithoragarh, August 2
More than 150 devotees were injured in stone war ritual called "Bagwal" which was organised today at the traditional Devidhura fair in Champawat district. The ritual of stone war was performed under strong administrative vigilance.
"For the first time, Bagwal had to be stopped as participants from two clans, out of four that take part traditionally in this stone war ritual, did not reach the spot.The first part of the ritual lasted for 12 minutes while the second part only for five minutes," said Dheeraj Pandey, district information officer, Champawat.
"The administration kept a strong vigil to keep it under control and arranged medical facilities for the devotees who get injured in the stone war," said Pratush Singh, SDM of Pati subdivision of Champawat district.
"As soon as the temple priest blew the couch signalling the beginning of the stone war, the participants pelted each other with stones," said Devendra Oli, a local historian from Champawat.
"The administration stopped the battle after seven minutes when it was convinced that the ritual had been over," said Lal Singh Chamyal, president of the Devidhura temple committee.
According to mythology, in ancient times, the temple deity used to take human sacrifices once in a year to keep her blessings intact on the people of area. Later with the arrival of Britishers, the tradition was stopped as it was found inhuman by the then Commissioner of Kumaon in eighteenth century who also converted it into "stone war" when he saw the feeling of the people attached to it," said Devendra Oli.
"The stone war was held at 20 places in Kumaon till eighteenth century to express the might of a clan which wanted to extract taxes from the public on behalf of the ruling regime," said Devedra Oli.
More then 20,000 spectators from all corners of the state and parts of UP witnessed the stone war at Devidhura for which the administration has made elaborate arrangements, sources from Champawat district administration informed. Yashpal Arya, Uttarakhand Congress chief and Revenue Minister, was the chief guest on the occasion.