Govinda aala rey…
One place that celebrates life, death, re-birth, marriage and just about every festival is Bollywood. Holi, Raksha Bandhan, Diwali, Karwa Chauth, Valentine's Day…. the actors dance and sing to bring the moment alive on screen. And the words that have made repeated appearances in Hindi are those of the Govinda—Govidna aala rey! Be it Amitabh Bachchan collecting the entire nagri with Mach gaya shor saari nagro main (Khudaar) or Ajay Devgn throwing an open challenge, Jiteyga wahi jismain hai dum in the movie Sangram.


For Lord's sake
As we bow our heads to the beloved flute-playing God, Krishna, this Janamashtmi, the excitement builds up not only in the temples but also in the families who firmly believe in the Lord. From dressing up the God to keeping fast and making a feast for the family, the day marks a transcendental storm in the kitchens.


The Bollywood import
When a known face of Bollywood decides to hear a Punjabi film script, and then decides to say 'yes', we have one reaction —hurray! Bollywood actor of Tum Bin and Pinjar fame, Priyanshu Chatterjee is the latest addition to the list of Bollywood actors taking a plunge into Punjabi cinema. Priyanshu makes his debut with Sirphire. He plays the role of Inder Gill who doesn't have a life outside college.
On a song
One should never underestimate the importance of music in Hindi films. A film might or might not be a hit but if it has some original music to boast of, half of the work is done; probably the reason why in Mahesh Bhatt's films music is always given a lot of importance. It's this fact that Bisakh Jyoti refers to when asked whether he will be able to establish himself in the industry amid cut-throat competition.
Visual treat
Different art forms and themes are the highlight of the two-day visual art exhibition that started at Hotel Aquamarine in Sector 22 on Thursday. This exhibition, displaying the art work of about 16 artists, is the result of a day-long creative workshop organised by Panchkula based artist Neenu Vij about 10 days ago.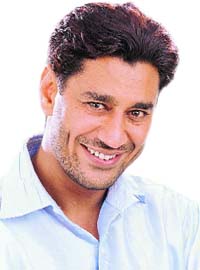 Punjabi Tadka
All about Mann
The singer stormed the music scene with his sweet voice, deep embedded dimples and good looks. Catch Harbhajan Mann, the Galan goriyan singer, baring his heart and soul. From singing to acting in Punjabi movies, Harbhajan Mann has worked with eminent directors like Manmohan Singh. He is working on his upcoming album Satrangi Peengh 2
indulge
Something eggstra!
To delight its customers, McDonald's has introduced McEgg burger in India. Through the new product, McDonald's creates a new category in its menu of eggetarians – who want to enjoy an egg based meal at any time of the day.


Master Chef
Seasonal delight
Prawns are a delectable variety of seafood which are relished by many. The trick of cooking prawns is never to overcook them so the taste remains as springy as ever.

Splendid start
Black is the colour of the season and that's what Varun Bahl showcased on the opening day of Delhi Couture Week on Wednesday. Transparency, layering and handcrafted textures were the key elements that the designer chose to flaunt through his collection.

Models display creations of designer Varun Bahl during the inaugural show of the Delhi Couture Week 2012 in New Delhi. Photo: PTI
What's Ameesha up to?
Ameesha's career may not have shaped up the way she thought it would but we have to admit that she is a pretty girl with a great body and a friendly persona. Why is she still single? For the lack of a good guy!
Cheering for the cause
Actor Abhishek Bachchan, who is in London at the moment, is all praise for each and every Indian Olympian. "I was asked by a journalist in London if I was 'angry' with India's performance at the Olympics. Considering our population we should be winning many more medals.


Together or not?
Jennifer Aniston's publicist has shot down reports suggesting that the actress has ended her relationship with writer/actor Justin Theroux. The split story graces the cover of the new issue of a magazine, but the star's representative insists very little of what has been written is true. "It's once again just another fabrication to sell magazines and has no relationship to reality," said Wonderwall.

Splits ville: Jennifer Aniston and Justin Theroux



Slow and steady…
Prachi Desai's career is moving at a slow and steady pace. She will romance Sanjay Dutt in the remake of South film Saamy. All her heroes have been much older than her be it Farhan Akhtar or Abhishek Bachchan or Emraan Hashmi. She is only 23 now!
Playing a loyalist
Everyone knows how Giaa Manik opted out of Saathiya Saath Nibhana of Star Plus to work on a rival channel Colors' show, Jhalak Dikhla Jha. Our sources told us Mohammed Nazim who is currently seen as a young businessman in Saathiya…had also got a lucrative offer from Jhalak Dikhla Ja, the celebrity dance reality show on a platter.


A role that matters
Pretty girl Sonarika Bhadoria who made an entry in TV with a romantic drama is currently seen in the serial Devon Ke Dev Mahadev as Goddess Parvati. Thrilled to be a part of the hit show, she talks about being an actor, few flops and new highs.

High on success: Sonarika Bhadoria