Medieval mindsets still govern attitudes towards women in private and public spheres. The media glare following Geetika's suicide and Fiza's death shows how women can be pushed to the edge by social pressure
Ratna Raman
When Marissa Mayer took over as CEO of Yahoo, the man who had been at the helm when darkness reigned over Yahoo-sphere stepped down. Marissa's baby, scheduled to arrive in the next couple of months, has drawn attention to the conflict of interests that Marissa will grapple with, namely, bonding with a new-born baby versus heading a corporate entity seeking a turnaround. However, Baby Mayer has nanny care in triplicate and doting daddy, apart from material mom so all should bode well for the Mayer future.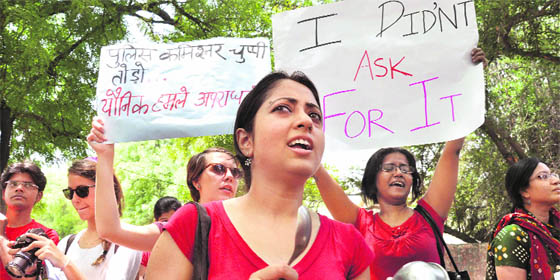 Women march and raise slogans during a protest against growing cases of sexual abuse in New Delhi
Of peace, love and boundaries
Anirudh Dhanda
The entire sky was covered with dark clouds. The morning was really cool. Any moment, the thirst of Amritsar was to be quenched by the Rain God. The yet-to-come smell of raindrops on dry soil and flaky walls of old houses made one glow within. Finally, the Rain God seemed happy.
Gateway to Mecca
Jeddah, the second largest Saudi Arabian city after the capital Riyadh, amazes with its cosmopolitanism
Niku Sidhu
Jeddah is least likely to be on the wish list of tourists worldwide. It is, however, the gateway for those who would like to know and understand the Middle East better; manifesting many a surprise as the layers unfold
Captain Courageous
With India having won the ODI series in Sri Lanka, Dhoni has silenced his detractors once again
M. S. Unnikrishnan
Mahender Singh Dhoni has yet again proved that he's 'captain courageous' who deflects criticism of his leadership by his deeds to silence his detractors. Before setting out for the five-match One-Day International (ODI) series against Sri Lanka, two of his 'star' colleagues — Virender Sehwag and Gautam Gambhir — had openly questioned Dhoni's captaincy, saying that he was lucky enough to have always led a talented bunch, who collectively contributed to make him the most successful Indian captain ever, forgetting the fact that Dhoni's captaincy skills played vital roles when the chips were down.
The beast of video virulence
Film promos, songs and censored bold scenes — all have gone viral on the internet much to the distress of Bollywood. Jackie Shroff's expletive-ridden video clips floating in the cyber space, however, took things too far
Deepa Ranade
Remember how young Neil Nitin Mukesh foamed at his mouth when his Sudhir Mishra-directed yet-to-release venture Tera Kya Hoga Johnny was suddenly made freely available on the net? He even went on to accuse his director of foul play (2011).


Straw art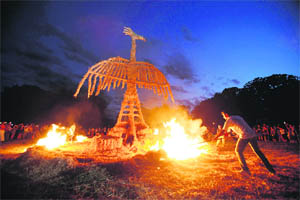 Artists burn a 10 m high straw art installation of a phoenix during the recent 7th Straw — Land Art Festival in Osijek, East Croatia. Twenty artists made 20 art installations using 30 tons of straw. Photo: Reuters
Rise & rise of Ridley
Ridley Scott, whose recent film Promethus was a pale shadow of his classic works, gave a whole new thrust to the genre of science fiction
Ervell E. Menezes
One never stops singing praises of European cinema because it comes alive when dealing with the fate and foibles of human nature as compared to Hollywood which excels in escapist entertainment. It shifted gears, however, in the mid-1960s to mid-1970s during the 'Decade of Change' when it captured the changing nuances of human nature but went back to its old self after that. Still, it has its breed of actors from Alfred Hitchcock, Stanley Kramer, Stanley Kubrick, Martin Scorsese and Ridley Scott, to mention a few, even though Scott's latest Prometheus is a letdown.
HEALTH capsules
No evidence that sex spoils sport
The Greeks believed athletes should avoid sex before sport, but modern Olympians and scientists are torn over the merits of in-competition coitus and whether abstinence enhances performance. For years coaches and athletes have practiced abstinence the night or even weeks before a big event, although all bets are off when the medal ceremony is over — 1,50,000 condoms were handed out to the 10,500 athletes competing at the London Games.