M A I N N E W S
Please value the sacrifices and take India to greater heights
As India celebrates its 66th Independence Day today, The Tribune talks to freedom fighters and GenNext to know whether the nation has lived up to their dreams
Perneet Singh
Tribune Model School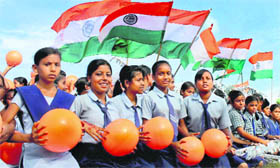 Schoolchildren rehearse for the Independence Day celebrations in Agartala. — PTI
Amritsar, August 14
As a four-year-old, he witnessed one of the bloodiest chapters of India's freedom struggle - the Jallianwala Bagh massacare. Today, as a 97-year-old, he feels that there's a vital need to put the country and its citizens on a right path.
Bharpur Singh, who now stays in Australia, is the surviving witness of the tragedy. He is on a visit to the holy city to meet his family and friends.
Talking to The Tribune on the eve of the 66th Independence Day, the nonagenarian talks about the fateful day, the atmosphere in the country at that time and the need to spread the message of martyrs and making the younger generation understand the true meaning of freedom. "Our family used to live in Jarau Gali close to the Jallianwalla Bagh," said Bharpur Singh.
"On April 13, 1919, I went to the Jallianwala Bagh along with my and uncle and grandfather. As the British regime did not want a public meeting to be held there, General Dyer along with his men blocked the main entry to the venue, which was surrounded on all sides by houses. However, there were small mud houses on its southern side," he said.
He said when Dyer asked his men to open fire, people started running helter-skelter. "I had no idea what was happening. All I could hear was gunshots and shrieks. My grandfather took me in his arms and ran towards the mud houses. From there, he scaled a wall but broke his arm while jumping over," said Bharpur Singh."My uncle was also injured in the melee," he said.
"I am not happy with the current scenario in the country. Though the people have become affluent, I feel they meed to prosper morally. The citizens must realise that we have earned freedom after lot of sacrifices and we must value it," he added.