Independent thought
Freedom implies different things to people. What's your idea of being free?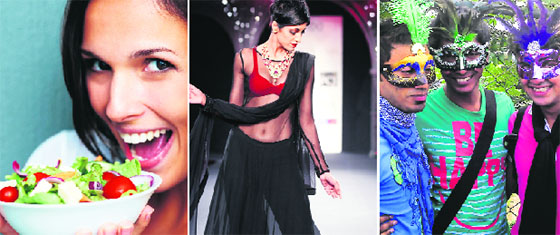 Bollywood uses the word to promote liberal cinema, the fashion industry to stand for experimental designs, youngsters to defend Public Display of Affection and dress codes in educational institutes… the word 'freedom' indeed has different connotations. On the 65th Independence Day, here are a few neither political nor moral instances of where the horizon of freedom can be expanded.
Ode to patriotism
Independence Day themes have been portrayed on the silver screen with gusto. Here are the favourite movies of some well-known personalities from the region...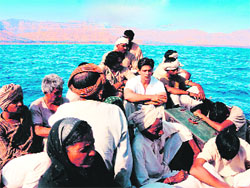 Kar Chale Hum Fida Jaano Tan Saathiyon, Ab Tumhare Hawale Watan Saathiyo in Rafi's voice is the undisputed, unofficial anthem of our country as are songs like Ma Tujhe Salaam, Chak De India, Yeh Jo Des Hai Tera or Chale Chalo...patriotism has been flavour of many a blockbusters on silver screen. As Chandigarh celebrates the Independence Day, we check out with city folks on what stirred their patriotic streak on screen.

A still from the movie Swadesh
New Release
After Dabangg, Bodyguard and Ready audineces expect a lot from Salman Khan. Salman's solo film this year is generating tremendous buzz, so we can expert another hit from him which releases on August 15.
Tiger on the prowl
Author, journalist, radio storyteller and scriptwriter Neelesh Misra shares his take on Ek Tha Tiger & much more

When someone's penned the hit single Jadu Hai Nasha Hai and at the same time authored 173 Hours in Captivity; has a song to his credit from Agent Vinod, then even a banner like Ek Tha Tiger doesn't need to be put in bold in the resume. As the author, journalist, radio storyteller and the scriptwriter, Neelesh Misra himself admits, "There's always lots happening," before listing half-a-dozen projects that "he would rather let the producers announce."
Many hues: Neelesh Misra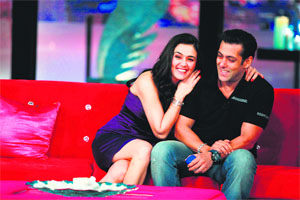 All praise for Sallu
Actress Preity Zinta who is all set to make a comeback with her home production Ishkq In Paris praised Salman Khan for helping her with the project. The actress said Salman Khan was the only actor who was approached for the role. "No other hero in the industry was approached for Ishqk In Paris except Salman Khan and he is not only in it but he's helped me so much by always being there," she said.
Vote of thanks: Preity Zinta and Salman Khan
Hair solutions
Aura Skin Clinic and MediSpa, a one-stop destination for all skin, nail and hair problems, has announced the launch of a state-of-the-art Trichology Studio. This is the first-of-its-kind centre in Tricity which offers all the facilities under one roof to deal with any problem related to hair, ranging from excessive body hair to abnormal hair fall to baldness.
The show must go on…
Punjabi actor Dolly Bindra will be a showstopper at the upcoming Wedding Asia show
Agreed, actors make great showstoppers. They have the looks, the body to carry on the beautiful ensembles and most of all, the attitude! But what we are going to witness in an upcoming wedding show sounds unreal… hear it from the horse's mouth…
We love you Sooraj!
Currently Sooraj of Diya Aur Baati Hum is participating in a cooking competition in Singapore where he has to cook a non vegetarian dish. Being a pure vegetarian, Sooraj chooses to walk out of the competition because he has been asked to cook a non-veg dish. However, Sandhya recommends that they should ask the audiences what their views are and therefore asks for a poll.
A still from Diya Aur Baati Hum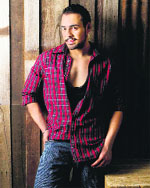 Rhythm In beat
Upcoming singer Manveer Bajwa is happy that the Punjabi music industry is welcoming towards newcomers
You have five seconds to list a place, an area or a sphere where technology hasn't seeped in…right from getting up in the morning to retiring at the end of the day, technology travels like our second self. So, when an aspiring Punjabi singer Manveer Bajwa shows us his newly opened state-of-the-art recording studio Rhythm Crafts in Chandigarh, it is certainly not a revelation. What we topple over is the fact that more and more Punjabi singers, both aspiring and established, are coming up with recording studios that have just about every equipment one can imagine!
tune in
Songs of freedom
It's hard to picture patriotism minus audio visual aid. Can there be a country without the National Anthem? Imagine rustling up hard-core nationalist feelings and not playing Rang De Basanti Chola. There are songs that are as old as the Independence Day, then some we picked up and composed along the way. As we celebrate the 65th year of Independence, we do away with the music genres and replay all that is there on the subject of love for the country.
Par Excellence
Skied tee shots
If you happen to hit a few skied tee shots with your woods during your round and pull some others, your swing would be coming down with a steep angle of approach. Marks of the ball on the top of the Driver's head are tell-tale signs of players with a steep angle of approach.
The year ahead
If your birthday is August 15...
You are very lucky to be born on the Independence Day. Wednesday is Mercury's day, so you will enjoy keeping busy, especially if you are doing things that are enjoyable. It's a perfect day for taking charge of a group, as in making sure a social event runs smoothly.
Astro Turf
ARIES: You can achieve quite a lot once you get going. Never trust a stranger. Socially, you may have some problems with a loved one, but it would not be too serious. Do not let friends and family get in the way. Tarot message: Be creative to retain grip over your business.

AB's social network
Amitabh Bachchan started blogging and he has a zillion fans and commentators on his blog. Now these people don't know each other but began bonding because of the portal. Some of them even attended one's wedding from different parts of the country! How cool is that!
Tech savvy: Amitabh Bachchan

Poster perfect
Shahid Kapoor is doing Phata Poster Nikla Hero and his heroine is Ileana D'cruz. The film is a commercial comedy produced by Tips and directed by Rajkumar Santoshi, Shahid has back to back films now with four directors.
New pairing: Shahid Kapoor

John turns a gangster
John Abraham is carving a niche for himself in gangster roles. Ram Gopal Varma wants him to star in Satya 2 and also produce it. RGV will take the story forward; John is yet to give his nod to the film.
Sequel time: John Abraham

Dark secrets
Raaz 3 is a complete romantic-thriller-horror film. While some portions of the trailer are not original, it is still scary. It shows the dark side of stardom and the lengths people go to for their survival. Bipasha has a very dark role in the movie and Esha plays a rising star. Emraan will mostly be with Esha towards the end.
Thrilling ride: Bipasha Basu and Emraan Hashmi

Fragrance fever
Parineeti Chopra will film her first commercial for Sprintz deodorant. It should be on air in a couple of weeks. This will be her first endorsement as a brand ambassador and first advertisement ever!
Ad world: Parineeti Chopra