Godís chosen one
At 105, Ustad Abdul Rashid Khan, an eminent classical vocalist, in Chandigarh for a musical concert by SPICMACAY, is going strong and raring to go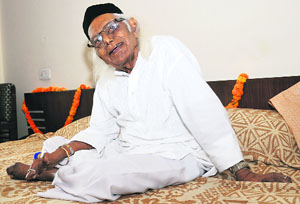 At 105, Ustad Abdul Rashid Khan, an indomitable classical vocalist of Gwalior gharana, is as much a testimony to an era gone by as a significant link between the past and the present. So the singer who has seen music move from courts to stage, from informal baithaks to conferences has a lot to say and share. However, as he goes down the memory lane, it's not past that he dwells in.
Midas touch: Ustad Abdul Rashid Khan. Photo: Pradeep Tewari

Confessions of a beautiful mind
National Award winning independent film-maker Amlan Dutta talks about his latest film Bom and his perception of the world around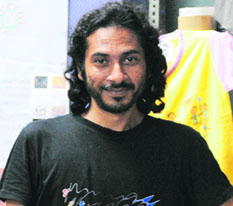 "I went to Malana to explore the oldest democracy and world's best hashish and returned with two adopted kids." This 'glaring' confession of three times National Award winning independent filmmaker, Amlan Dutta brings to the fore not only his conscious driven art, also his vision that goes much beyond the lens. 'Bom aka One Day Ahead of Democracy, a story of thousands of years old village, Malana near Kullu, for which Amlan won his third national award this year, is a difficult film to watch and understand and it is so because there is no opulence and glamour in his projection.
REAL PICTURE: Amlan Dutta. Photo: S. Chandan

Money makes the Martin go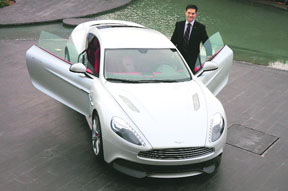 British sports car, Aston Martin unveils in Chandigarh, raising the luxury bar of the city
You can be happy on the streets of a bustling city or be carving through the countryside. How does it matter when it's Aston Martin? More than the thoroughbred British luxury sports tag, it's the price tag that's imposing. And at Rs. 3.85 crore, we don't know whether it's ultra exclusive or plain aspirational.
Luxury on wheels: Sanjeev Hazari with Aston Martin. Photo: Pradeep Tewari

Astro turf
ARIES: Your card suggests that extra money is likely to come from somewhere. You will start off in a confident, optimistic mood. Life is not likely to run according to plan. Dreams, hopes and wishes are up for review. Tarot message: Take your time before reacting.
The year ahead
If your birthday is August 20...
Some unhappiness is essential only then you realise the value of happiness. You will make good money, but try not to let it slip through your fingers. Spending time with children will be important. Personal relationship may break due to difference of opinions. Working people will find the year very promising. Financial income will be smooth. Personal life may involve problems.
Chatter box
Break free with Shweta
She is sweet, cute and sensible and has got her priorities right. The dazzling Shweta Kawaatra reveals her mantras of chilling out and relaxing during her breaks. Though she loves working, she enjoys her breaks equally well. Read on.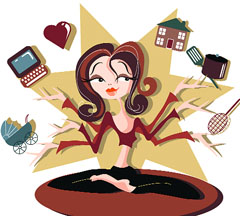 Stress buster
Find your peace of mind
Are you a Perfectionist? Perfectionism is a trait that can rob you of your peace of mind, enjoyment of life and self esteem. Stress of course is a common trait with all of us. There are two kinds of people who stress the most, the perfectionists and the high achievers. They are probably mostly unaware of their own response to their attitude. But as I have perceived being a perfectionist is pretty much unlike being a high achiever and can drive you up the wall.
TRENDSETTER
Dressed to the nines
To get that 'suave' look, young men of today spare no effort to wear the latest. They also know how to dress for the occasion ó classy for formal occasions and a studied casual look for informal ones. Handsome and smart doctors have been the center of many a romantic story. Let's see what our handsome Dr Rajdeep Singh Chhina has to say about fashion:

PCís a helping hand
In the latest development, Priyanka Chopra has come forward to ensure the smooth release of K C Bokadiaís Deewana Main Deewana. Priyanka has apparently shot a special item song for Bokadiaís film. The song a new adaptation of the popular Punjabi-folk number Kala doriya was freshly recorded in Sundhi Chauhan and Ila Arunís voice.
Friend indeed: Priyanka Chopra
Ramís short and stirring act
Television superstar Ram Kapoor is the heartthrob of millions. But what the Bade Achhe Lagte Hain actor is super excited about these days is a film he has just signed!
Vegas, here she comes
She wanted to visit Las Vegas ever since she was a child. Finally, Minissha Lamba's dream has come true.


Fresh Bolly items
We take a look at the item songs with prominent Bollywood actresses in recent times
Perfect timing
Kareena Kapoor is making waves with Halkat Jawani. The song presents her in a sultry avatar. She plays a heroine in Heroine and the song is about her character Mahi Arora doing an item song. She is clearly having a ball.

Blast from past
Katrina Kaif went all rustic and Indian for Chikni Chameli in Agneepath. The song is a big hit. She danced very well but could not express the raunchiness needed for a song like that.
Hardly an item
Sonakshi Sinha will not expose or do anything remotely raunchy. So she has done an item song called Go Govinda with Prabhudeva. It isn't really an item song and people are hardly taking notice of the song which features in Oh My God.
Sheís got the looks
Chitrangda Singh is beautiful and sultry. Her first item song is I want just your from Joker. She looks great in the song, including the raunchy factor but the song has created no buzz. The movie itself is quite thanda!

Down but not out
It has been confirmed that Ronit Roy has typhoid. The actor tweeted, "My blood reports say it's typhoid now! The battle continues for a few more days. However, Adaalat telecasts will be there."
Thatís the spirit: Ronit Roy

Enough of each other?
Anushka Sharma and Ranveer Singh have called off their relationship. They recently holidayed together but have put an end to their three-year-long on-off relationship. The reasons are known only to them.
Same-to-same
The song Halkat Jawani is the first song to be released from the movie Heroine. The sizzling video featuring Kareena Kapoor is on air now. The song is composed by Salim-Sulaiman and sung by Sunidhi Chauhan. Halkat Jawani is choreographed by Ganesh Acharya, who made Katrina Kaif dance to Chikni Chameli earlier this year. Interestingly, the designer is the same as well. Manish Malhotra styled both Katrina and Kareena in their item numbers.

Dedicated follower...
Sonal Chauhan is a huge fan of writer-director Aaron Sorkin of The Social Network and A Few Good Men fame. She has been closely following his new television series The Newsroom and has got members of the cast and crew of her film 3G hooked on it as well.
Fan mail: Sonal Chauhan


Another tiger in line?
There are plans for a sequel to Ek Tha Tiger because of the encouraging collections.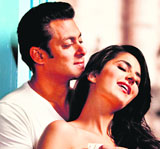 The movie has collected INR 45 crore so far but the makers are banking on double the amount due to the long weekend including Eid.
Sequel show: A still from Ek Tha Tiger

Bid adieu
Bollywood bid farewell to veteran photographer Ashok Mehta. Manisha Koirala and Arjun Rampal were particularly distraught. Prabhudda Dasgupta also passed away in the same week.
Side effects
Esha Gupta got a shock of her life when a set member of Raaz 3 nearly got electrocuted while handling some equipment for the 3D effect. She thought he was playing a prank but he passed out for ten minutes and doctors were called in to revive him and take him to the hospital.

Hanging out
Ranveer Singh has found a new friend in Deepika Padukone. They were spotted at a suburban restaurant recently and now at a suburban cinema where they watched Ek Tha Tiger with common friends. They started meeting because of Raam Leela. Deepika Padukone